By Amy Brodie, Client Services Director
No matter your professional discipline or expertise, chances are you've heard of—and have at some point in your career have aimed to meet—SMART goals. But as all of us in senior living know, our field is unique. And in light of this, we at Love & Company have developed a new and improved way to approach SMART goals in your senior living organization so both leadership and sales teams can have a clearer path to success.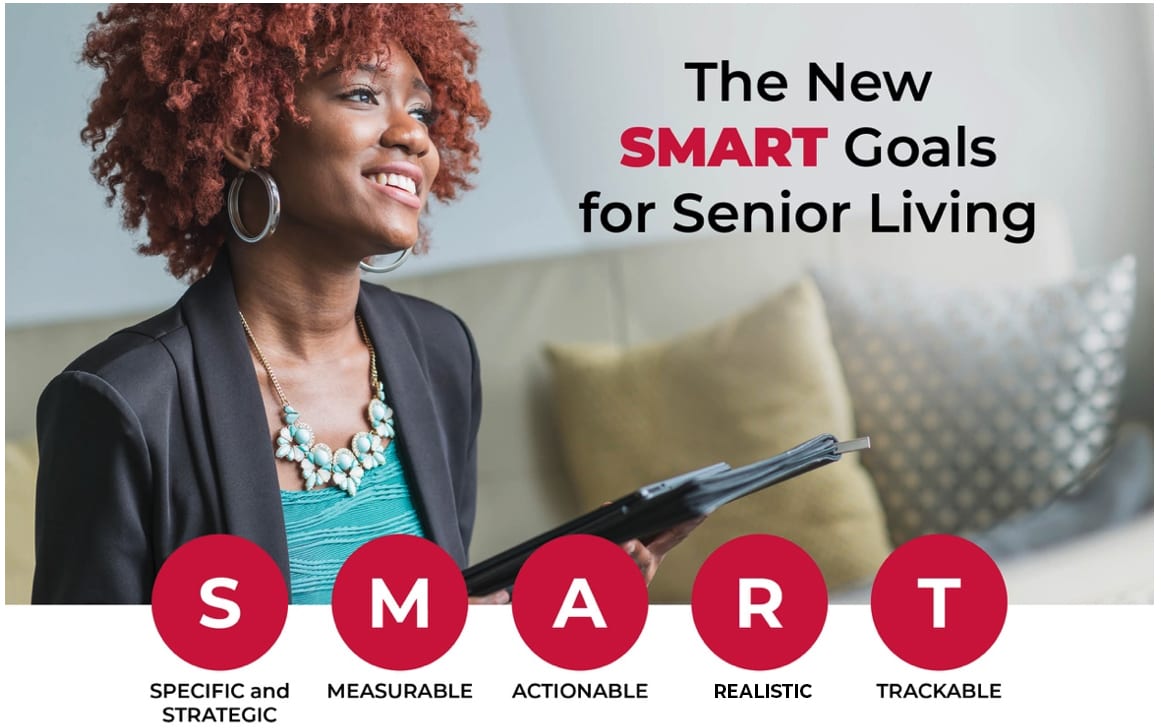 SPECIFIC and STRATEGIC
In our field, specific goals are pretty "baked in"—blue sky and expansion communities need X committed-by-deposit parties by a specific date or communities need to stay at a specific capacity to operate, etc. But less scientifically certain are how many connections (phone calls, texts, emails) and appointments are required to reach these larger goals.
A best practice that can help support your sales team is to define both the specific goals and the strategies by which they will be met. For example, if the goal is to schedule X appointments a week, then it's important we try to reverse engineer our formula for success:
If Y calls typically result in X appointments, then sales teams ought to know roughly how many calls are needed to reach the goal for X appointments. Without specificity and strategy attached to these identified targets, a team can quickly lose focus or become oblivious to where it stands on its path to success.
MEASURABLE
It's important to have metrics that will define success and help inform where more support might be needed. And as noted, identifying targets and milestones for your internal sales team is critical to this end. Implementing practices to accurately measure your organization's sales and marketing efforts is the secret sauce to any sales team's success.
And to make sure everyone stays goal-oriented and on-track, it helps to document your team's desired goals and milestones in what may feel like a granular sense—even down to the day. Better still, it can be extremely effective to transfer these to a visual that your team can see on a daily basis—one that reflects both the long-term goals and milestones you're striving to hit along the way. Weekly activities to connect with the most prospects can be a great source of inspiration for your sales teams, and you can set goals for calling, emailing and texting prospects.
And no goal is too small! Define how many calls will be made each morning, how many emails will be sent each afternoon, and how many appointments should be booked by the beginning of every week, being careful to accurately measure how many of each of these efforts converts to an appointment or deposit, respectively.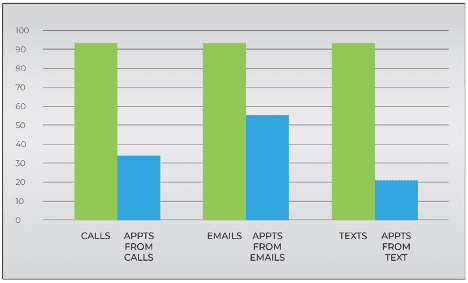 ACTIONABLE
Once you determine ways to effectively measure your sales team's efforts, it's time to put what you've learned into action. This sometimes requires zooming out to evaluate where your team members are pouring energy and determine the ROI of their time investment. We often find that team members are chasing goals that don't pay off and leaving opportunities on the table because they're not convinced something is worth their attention. It's not uncommon, for example, to put a lot of time, energy and money into events that don't produce bottom-line goals. Sales and marketing teams invest so much only for prospects to lunch and leave, rather than lunch and learn. Knowing and having established goals going into the event (i.e., 10% of attendees schedule a personal appointment before leaving or agree to an established next step) is imperative to ROI.
REALISTIC
Whether setting census goals, getting priority deposits (PDs) for expansion financing, remodeling or achieving stable occupancy, the goals and milestones of any project need to be realistically achievable; this is necessary for both a project's success and team morale. For example, considering budgets and bandwidth can go a long way in determining where to best focus activity for maximum efficiency and, therefore, set goals.
TRACKABLE
In today's landscape of digital and traditional media, making both your sales and marketing team's activity as trackable as possible is so beneficial in supporting your community's short-term and long-term goals.
This is where your organization's software can pay off. Use each bell and whistle offered in your CRM. It's important to tag lead sources and/or implement codes that will help tie your team's efforts to successful conversions; CRM notes, form entry fields and phone call data are so useful in informing campaigns for greater month-over-month successes.
For example, if someone calls to inquire about an event, it's great to learn how that person heard about the event. Then, that lead can be tied to a specific traditional or digital effort.
Another example might be examining what type of event a depositor committed after attending. Was it a lunch and learn? A dessert and mingle? Something more active? Tracking these in your CRM can help you scientifically understand, over time, what types of events serve as decision tippers.
While it likely goes without saying, successful use of this new SMART goals approach will almost always require coordinating with marketing—as it should. The need for a symbiotic relationship between sales and marketing cannot be denied.
If you think your sales or marketing teams would benefit from a deeper understanding of their opportunities, we'd love to talk about it. Reach out to contact Tim Bracken at 410-207-0013, or click here to contact us.