Join us at upcoming events

With more than 25 years experience in senior living, Love & Company specialists are often asked to present at conferences and participate in regional and national forums. With a firm eye on the future, as well as the present, we help shape the senior living field. Join us at the next event!
Upcoming Live and Virtual Events
Webinars
August 25, 2022 • 12:00 pm - 1:30 pm
Presenters:
Rob Love, President & CEO, Love & Company
Sara Montalto, Vice President of Strategic Services, Love & Company
Kirby Nickerson, CFO, Lutheran Services Carolinas
Stacey Nannery, Vice President, Sales and Marketing, Westminster Canterbury Richmond
Russell Gardner, Vice President, Chief Financial Officer, Westminster Canterbury Richmond
In planning a major expansion or start-up community, providers have many decisions to make that will have a profound impact on the resulting project, from the types, sizes and pricing of residences, to the services, amenities and contract options to be offered. To make the best decisions, organizations need to have the best information in hand to inform those decisions.
In this webinar, we will explore two highly successful presales projects—one for Trinity Landing, a start-up, blue-sky community sponsored by Lutheran Services Carolinas, and one for Westminster Canterbury Richmond, which involved a substantial expansion presales effort. In each of these projects, leadership drew on key data from the market to drive decisions that not only resulted in strong presales but enabled both projects to significantly expand the number of residences included in the initial phase of the project.
How to Use Market Intelligence to Significantly Increase Presales Success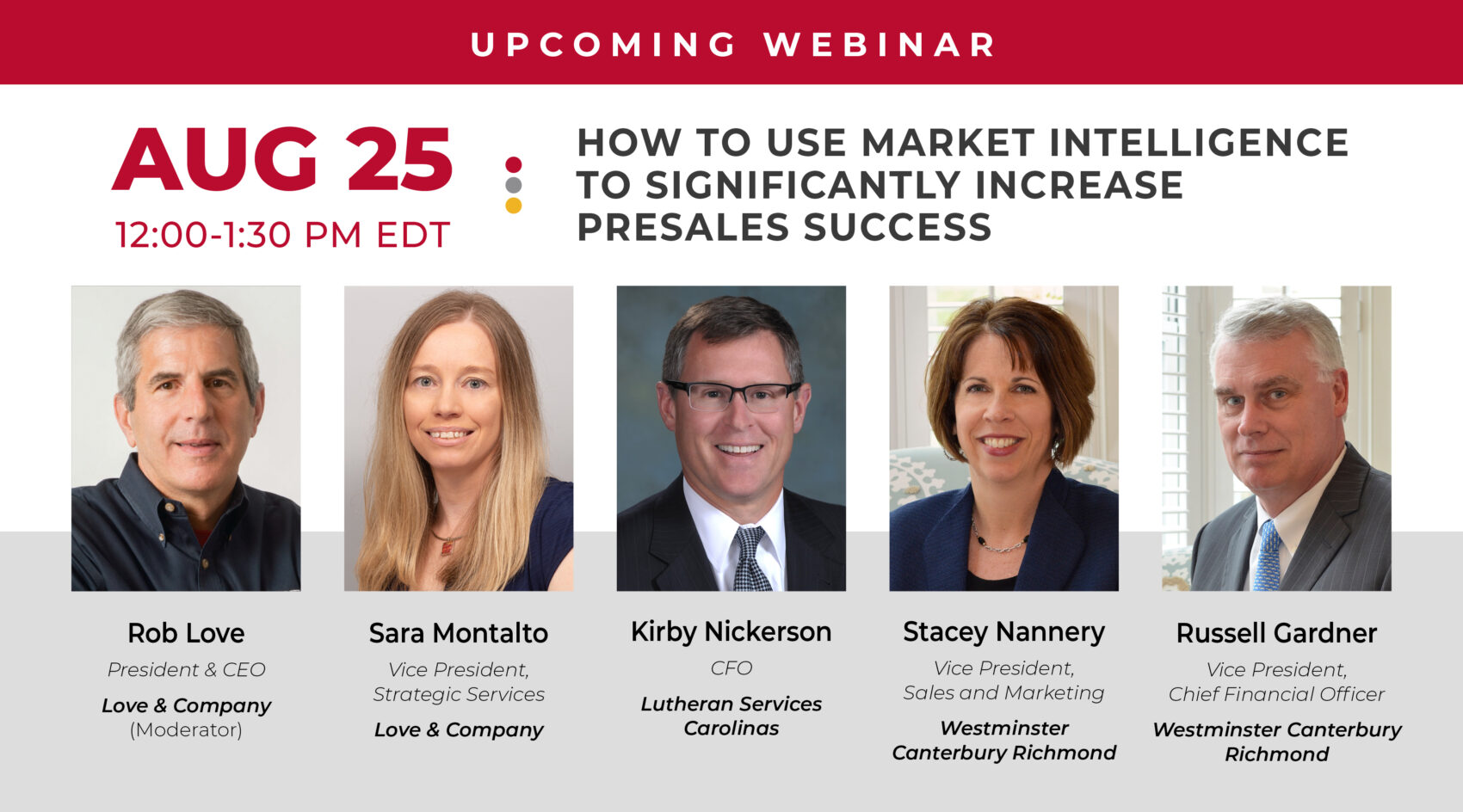 During the webinar, participants will:
Understand the most important information to gather on a market, including demographics and competitive insights, to drive the initial planning process
Learn how information gained from a certain type of consumer research provides a strong foundation on which to base pricing and contract option decisions
Understand how market-driven information can be drawn on to address significant project questions as the planning progresses
Register
Conferences, Speaking Engagements
LeadingAge NY
August 29, 2022 - August 31, 2022
CCRC & Retirement Community Summit
Presenting:
Lisa Pearre, Principal, Chief Client Services Officer, Love & Company
Conferences, Speaking Engagements
LeadingAge Annual Meeting+ EXPO
October 16, 2022 - October 19, 2022
Title: Developing the Life Plan Community of the Future
(Session 15-A) Sunday, October 16, 2022  | 1:00 – 2:00 p.m.
Presenters:
Rob Love, President & CEO, Love & Company, Inc.
Amy Castleberry, Senior Vice President, Ziegler
Brenda Schreiber, Vice President, Marketing, Mather LifeWays
Margaret Yu, Architectural Designer/Business Development, RLPS Architects
Mark Beggs, President, Edenwald
Michael Kivov, Founding Partner, One Point Partners
Sponsors
Love & Company is proud to be a sponsor for the following events:
Greystone Sales Adventure • Mennonite Health Assembly
Affiliations
Love & Company is proud to be a member of the following LeadingAge organizations:


Pennsylvania • Virginia • Maryland • New York • Georiga • Illinois • North Carolina • Florida • Texas • LeadingAge National
Love & Company is also proud to be a member of the following senior living organizations:
Mennonite Health Services • United Methodist Association