Join us at upcoming events

With more than 25 years experience in senior living, Love & Company specialists are often asked to present at conferences and participate in regional and national forums. With a firm eye on the future, as well as the present, we help shape the senior living field. Join us at the next event!
Upcoming Live and Virtual Events
Webinars
August 5, 2021 • 12:00 pm - 1:30 pm
Presenters:
Karen Adams, Vice President Market Intelligence, Love & Company
Tom Mann, Vice President of Sales and Marketing, Moorings Park
Mike Kivov, Partner, OnePoint Partners
Rob Love, President & CEO, Love & Company
For more than 40 years, Life Plan Communities (known for most of that time period as continuing care retirement communities) have offered aging persons the confidence of knowing that, if they ever needed assisted living or skilled nursing, it could be provided at the same community. And after 40 years, Life Plan Communities have yet to capture even 10% of the "age- and income-qualified" market.
Today, as residential and stay-at-home alternatives for aging seniors continue to grow, Life Plan Communities are facing increased pressure to reinvent themselves in order to stay both relevant and viable. With continued declines in the utilization of skilled nursing beds, coupled with increased consumer preference to age in place rather than move through a continuum, many believe the historical continuum of care model needs to be re-envisioned.
How can Life Plan Communities successfully reposition the continuum concept? In this webinar, we will share insights on overall consumer preferences for preventive health and wellness programs, plus strategies several non-senior-living companies are taking to capture this rapidly expanding need. We will then share insights from senior living thought leaders on their vision for how Life Plan Communities are in a unique position to offer more comprehensive integrated health and preventive programs than any current alternatives.
Integrated Wellness and Prevention
Repositioning Life Plan Communities to Provide What Consumers Really Want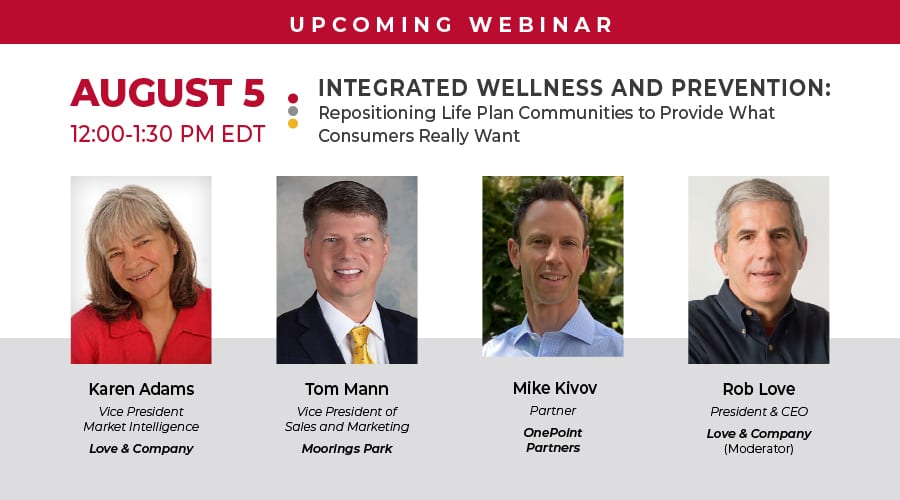 During the webinar, participants will:
Examine consumer desires for preventive health programs, and how the growth of alternative services for aging seniors may impact demand for Life Plan Communities
Explore a "fountain of youth" vision for how Life Plan Communities can adopt a truly distinctive and valuable positioning strategy around integrated health, wellness and prevention that they are uniquely qualified to deliver
Discover options for repositioning and rightsizing underperforming healthcare assets
Register
Speaking Engagements, Conferences
LeadingAge North Carolina
August 18, 2021 • 10:45 am - 11:45 am
Session Title: Rental vs. Entrance Fee: Responding to Consumer Preferences (In-Person)
Presenters: Rob Love (Love & Company), Toby Shea (OnePoint Partners), Tommy Brewer (Ziegler)
Time: 10:45 am – 11:45 am EDT
Speaking Engagements, Conferences
LeadingAge North Carolina
August 19, 2021 • 9:30 am - 11:00 am
Session Title: General Session: Diversity and Inclusion Panel (In-Person)
Presenters: Rob Love (Love & Company), Suzanne Hodge Pugh (Aldersgate UMRC), Ted Goins (Lutheran Services Carolinas)
Time: 9:30 am – 11:00 am EDT
Speaking Engagements, Conferences
LeadingAge FL
September 1, 2021 • 10:15 am - 11:15 am
Session Title: The Feasibility of Serving the Middle Market (In-Person)
Presenters: Karen Adams (Love & Company), Meredith Benedict (DHG), and Michael Starke (PMD)
Time: 10:15 am – 11:15 am EDT
Speaking Engagements, Conferences
LeadingAge Annual Conference
October 24, 2021 • 3:00 pm - 4:00 pm
Session Title: Continuing Care at Home: A Catalyst for Change (In-Person)
Presenters: Amanda Young (Lutheran Homes of SC), Lisa Hoffman (Phoebe Allentown), and Rob Love (Love & Company)
Time: 3:00 pm – 4:00 pm EDT
Speaking Engagements, Conferences
LeadingAge Annual Conference
October 26, 2021 • 3:00 pm - 4:00 pm
Session Title: Overcome Your Post-Pandemic Marketing Challenges (In-Person)
Presenters: Emily Jimerson (SFCS Architects), Hoppy Sell (Spectrum Consultants), Rob Love (Love & Company), Tye Campbell (SFCS Architects)
Time: 3:00 pm – 4:00 pm EDT
Affiliations
Love & Company is proud to be a member of the following senior living organizations:


California • Florida • Maryland • North Carolina • Virginia • Pennsylvania • Texas • National