Join us at upcoming events

With more than 25 years experience in senior living, Love & Company specialists are often asked to present at conferences and participate in regional and national forums. With a firm eye on the future, as well as the present, we help shape the senior living field. Join us at the next event!
Upcoming Live and Virtual Events
Webinars
December 10, 2020 • 12:00 pm - 1:30 pm
Presenters:
Sean Kelly, President & CEO, Kendal Corporation
Margaret Johnson, Director—Sector Lead, Senior Living, Fitch Ratings
John Franklin, Principal, Pearl Creek Advisors
Rob Love, President & CEO, Love & Company (moderator)
2020 marked a year of significant—and largely unanticipated—change in the senior living field. What lies ahead for 2021?  In this webinar we will share insights from a multisite provider and an association executive on how they and their member communities are taking lessons learned from 2020 and adapting to position communities for success in 2021.
Focus on 2021
Insights and Strategies for a Successful Year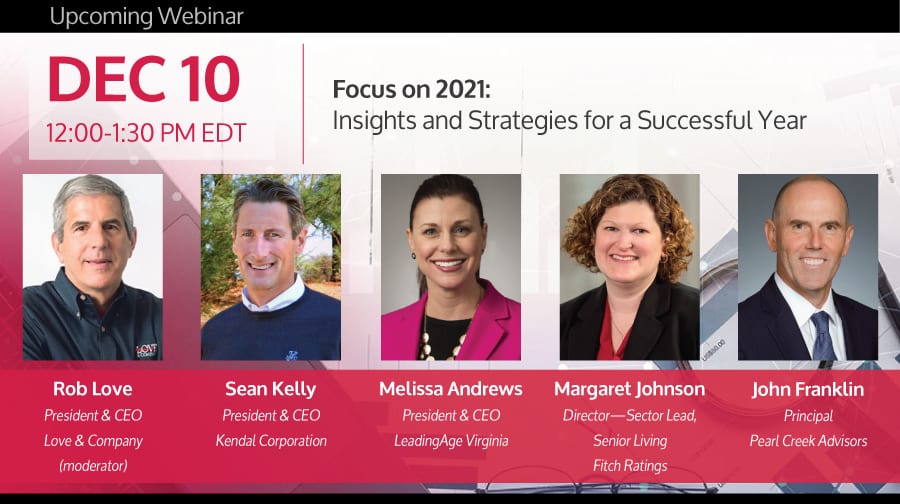 We will also share insights from a financial analyst on how the senior living field is currently viewed by investors, and by a senior living thought leader on overall strategies organizations need to be pursuing to position the field for continuing success in the years ahead.
In this webinar, you will learn:
How Kendal is preparing its communities for operational, marketing and financial success in 2021
How LeadingAge Virginia is working to position its member communities to be successful in 2021
How Fitch analysts currently view the strengths and challenges of the senior living field
Major initiatives Pearl Creek Advisors founder John Franklin is encouraging organizations to take to remain competitive and meaningful both in 2021 and in the years beyond
Register
Affiliations
Love & Company is proud to be a member of the following senior living organizations:


California • Florida • Maryland • North Carolina • Virginia • Pennsylvania • Texas • National