Stay at the front of the field

Drawing from both our own highly experienced marketing, sales, research and development planning specialists, and from a broad range of senior living professionals from throughout the field, Love & Company provides an ongoing stream of educational content that enables community leadership to stay on the cutting edge of senior living.
We invite you to view one of our past webinars and to keep an eye out for upcoming opportunities. Register to be part of our Leaders Board to learn about all upcoming webinars and blogs.
December 10, 2020 • 12:00 pm - 1:30 pm
Presenters:
Sean Kelly, President & CEO, Kendal Corporation
Margaret Johnson, Director—Sector Lead, Senior Living, Fitch Ratings
John Franklin, Principal, Pearl Creek Advisors
Rob Love, President & CEO, Love & Company (moderator)
2020 marked a year of significant—and largely unanticipated—change in the senior living field. What lies ahead for 2021?  In this webinar we will share insights from a multisite provider and an association executive on how they and their member communities are taking lessons learned from 2020 and adapting to position communities for success in 2021.
Focus on 2021
Insights and Strategies for a Successful Year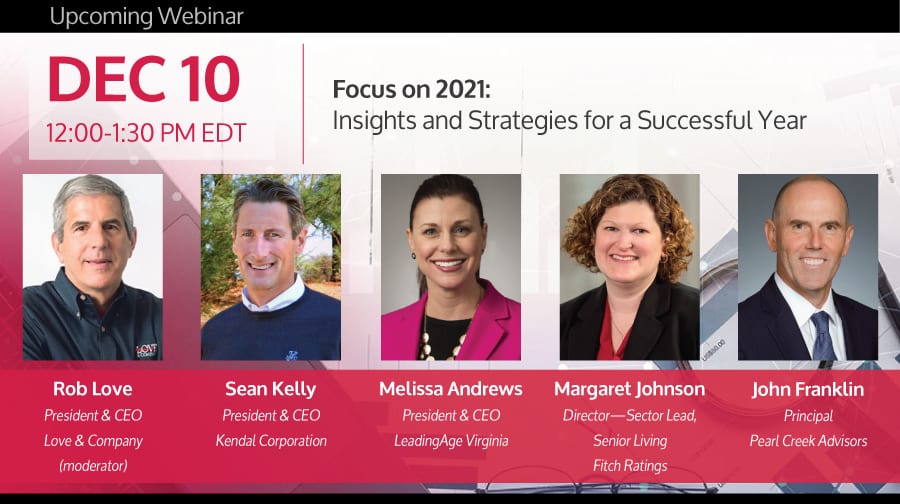 We will also share insights from a financial analyst on how the senior living field is currently viewed by investors, and by a senior living thought leader on overall strategies organizations need to be pursuing to position the field for continuing success in the years ahead.
In this webinar, you will learn:
How Kendal is preparing its communities for operational, marketing and financial success in 2021
How LeadingAge Virginia is working to position its member communities to be successful in 2021
How Fitch analysts currently view the strengths and challenges of the senior living field
Major initiatives Pearl Creek Advisors founder John Franklin is encouraging organizations to take to remain competitive and meaningful both in 2021 and in the years beyond
Register
Past Webinars
Click the title of the webinar below to watch the session recording
How to use digital sales tools to compete in 2021 Presented By:Lisa Pearre, Love & Company (moderator)Erin Hayes, Co-Founder and Chief Revenue Officer, EnquireCasie Reber, Content Marketing Director, Love & CompanyJoan Kelly-Kincade, Senior Living Sales Advisor, Love & CompanyClara Daly, Interactive Communications Director, Love &...