Stay at the front of the field

Drawing from both our own highly experienced marketing, sales, research and development planning specialists, and from a broad range of senior living professionals from throughout the field, Love & Company provides an ongoing stream of educational content that enables community leadership to stay on the cutting edge of senior living.
We invite you to view one of our past webinars and to keep an eye out for upcoming opportunities. Register to be part of our Leaders Board to learn about all upcoming webinars and blogs.
A Look Ahead At 2024: It's Time To Grow.
December 14, 2023 • 12:00 pm - 1:30 pm
Presenters:
Dan Hermann, President and CEO, Ziegler
Larry Gumina, Chief Executive Officer, Ohio Living
John Spooner, Co-Chief Executive Officer, Greystone Communities
Rob Love, President/CEO, Love & Company (moderator)
After years of dealing with a pandemic, rising construction costs, inflationary pressures and high interest rates, many market factors are settling down to more normal levels. With greater stability comes greater opportunity, as projections show that the senior living field will need to nearly double the inventory of residences by 2040 to keep up with demand. It's now time for providers to address how they will respond to increasing consumer needs in their markets. In this, our fourth annual "A Look Ahead" webinar, our panel of senior living thought leaders will share their views on what steps organizations can (and need to!) take now to prepare for this increase in demand.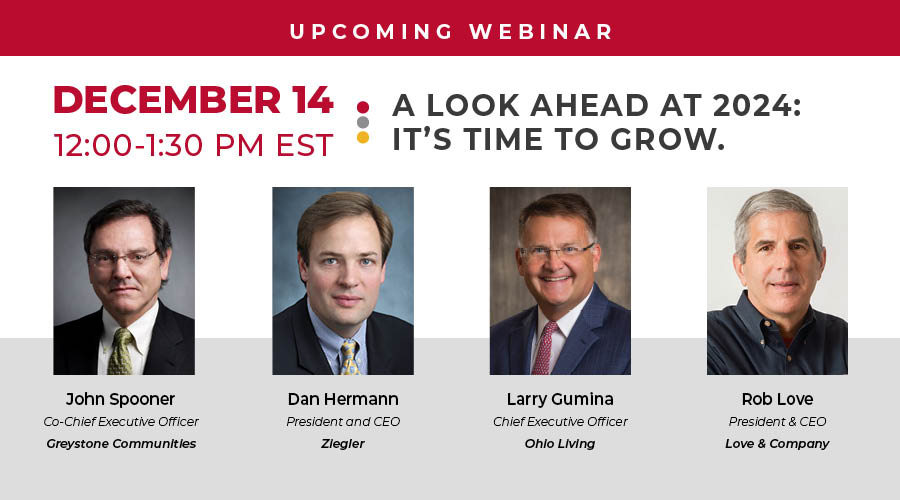 Learning Objectives: 
Dan Hermann, President and CEO of Ziegler, will share his perspectives on overall growth opportunities and why he believes this is the right time for the not-for-profit senior living field to focus on growth.
Larry Gumina, CEO of Ohio Living, a growing multisite organization, will share insights as an operator on how Ohio Living is planning for growth, and on developing a strong board is a critical step in preparing for smart growth.
John Spooner, Co-CEO of Greystone Communities, will share the perspectives of a development firm in addressing how organizations should prepare for expansions of existing communities or development of new or satellite campuses.
Register Today
Past Webinars
Click the title of the webinar below to watch the session recording
Presenters: Greg Hensley, Senior Vice President, Plante Moran Living Forward Sally Heffernan, Senior Vice President, Plante Moran Living Forward Sara Montalto, Senior Vice President, Strategic Services, Love & Company Rob Love, President/CEO, Love & Company Marketability and high occupancy in today's competitive senior housing market can...