Stay at the front of the field

Drawing from both our own highly experienced marketing, sales, research and development planning specialists, and from a broad range of senior living professionals from throughout the field, Love & Company provides an ongoing stream of educational content that enables community leadership to stay on the cutting edge of senior living.
We invite you to view one of our past webinars and to keep an eye out for upcoming opportunities. Register to be part of our Leaders Board to learn about all upcoming webinars and blogs.
Overcoming Inflationary Pressures: Strategies to Increase Revenue and Control Costs in 2023
February 28, 2023 • 12:00 pm - 1:30 pm
Presenters:
Rob Clark, Managing Director, OnePoint Partners
Rob Love, President/CEO, Love & Company
Sara Montalto, VP of Strategic Services, Love & Company
For senior living communities, non-payroll inflation has increased costs in general by nearly 15% over the past two years, while payroll costs have increased by even more. This has resulted in many communities suffering from either dramatically reduced margins, or in many cases substantial negative margins. Communities simply cannot absorb these costs, nor offset them by monthly fee increases alone.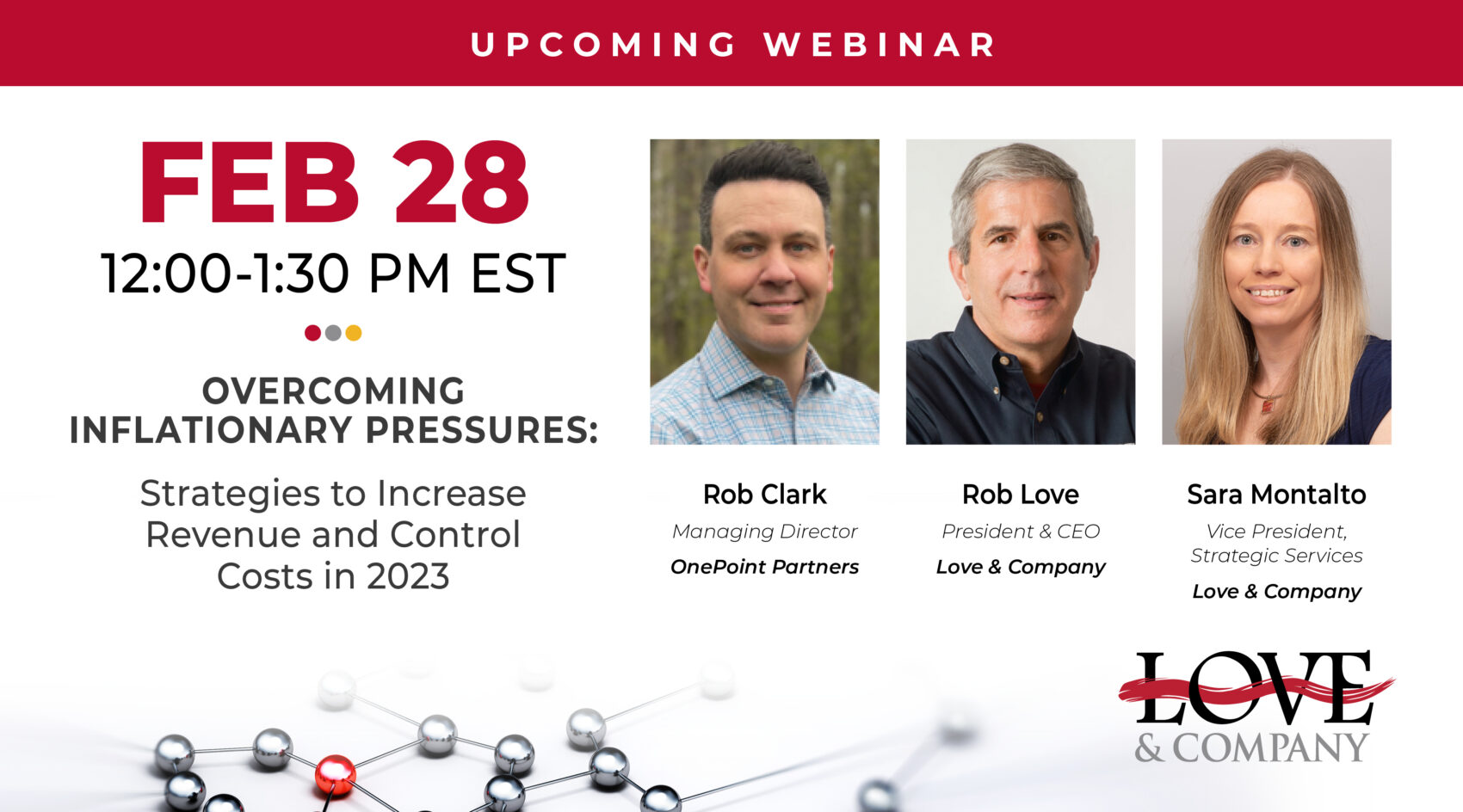 In this webinar, we will address several steps communities can take to meaningfully increase revenues, and to better control expenses. Specifically, participants will learn:
What is really happening in the real estate market, and how is that affecting home sales and home values? Where do experts expect the real estate market to go in 2023, and how will that affect sales?
What flexibility do communities really have to increase entrance fees, and how should they go about doing that? And what other options do they have to increase revenues through pricing and contract modifications?
What opportunities do communities have to better control and reduce costs, in ways they may not have previously considered?
Register Today
Past Webinars
Click the title of the webinar below to watch the session recording
Presenters: Aaron Rulnick, Managing Principal, HJ Sims Jonathan Cook, Chief Executive Officer, LIfeSpire of Virginia Rob Love, President/CEO, Love & Company Staffing shortages. Inflationary pressures. Rising interest rates. A softening housing market. Ever-increasing construction costs and supply chain issues. These and other economic...