Stay at the front of the field

Drawing from both our own highly experienced marketing, sales, research and development planning specialists, and from a broad range of senior living professionals from throughout the field, Love & Company provides an ongoing stream of educational content that enables community leadership to stay on the cutting edge of senior living.
We invite you to view one of our past webinars and to keep an eye out for upcoming opportunities. Register to be part of our Leaders Board to learn about all upcoming webinars and blogs.
Maximize Sales from Digital Marketing
October 5, 2022 • 12:00 pm - 1:30 pm
Presenters:
Rob Love, President & CEO, Love & Company
Ellen Stokes, Vice President of Marketing Innovation, Love & Company
Evan Brown, Media Director, Love & Company
Mike Guill, Digital Interactive and Content Marketing Director, Love & Company
Genie Heer, Senior Sales Advisor, Love & Company
A recent analysis of Love & Company clients' sales metrics shows that, since 2018, the number of leads communities are getting from digital sources has tripled, and the number of sales from digital sources has doubled. Sales from digital lead sources now represent nearly 30% of all sales, more than double the proportion from direct mail (13%), and lagging only sales from referrals, PR outreach and drive-by (47%). In this increasingly digital marketplace, how can communities ensure they are implementing the most effective digital marketing programs?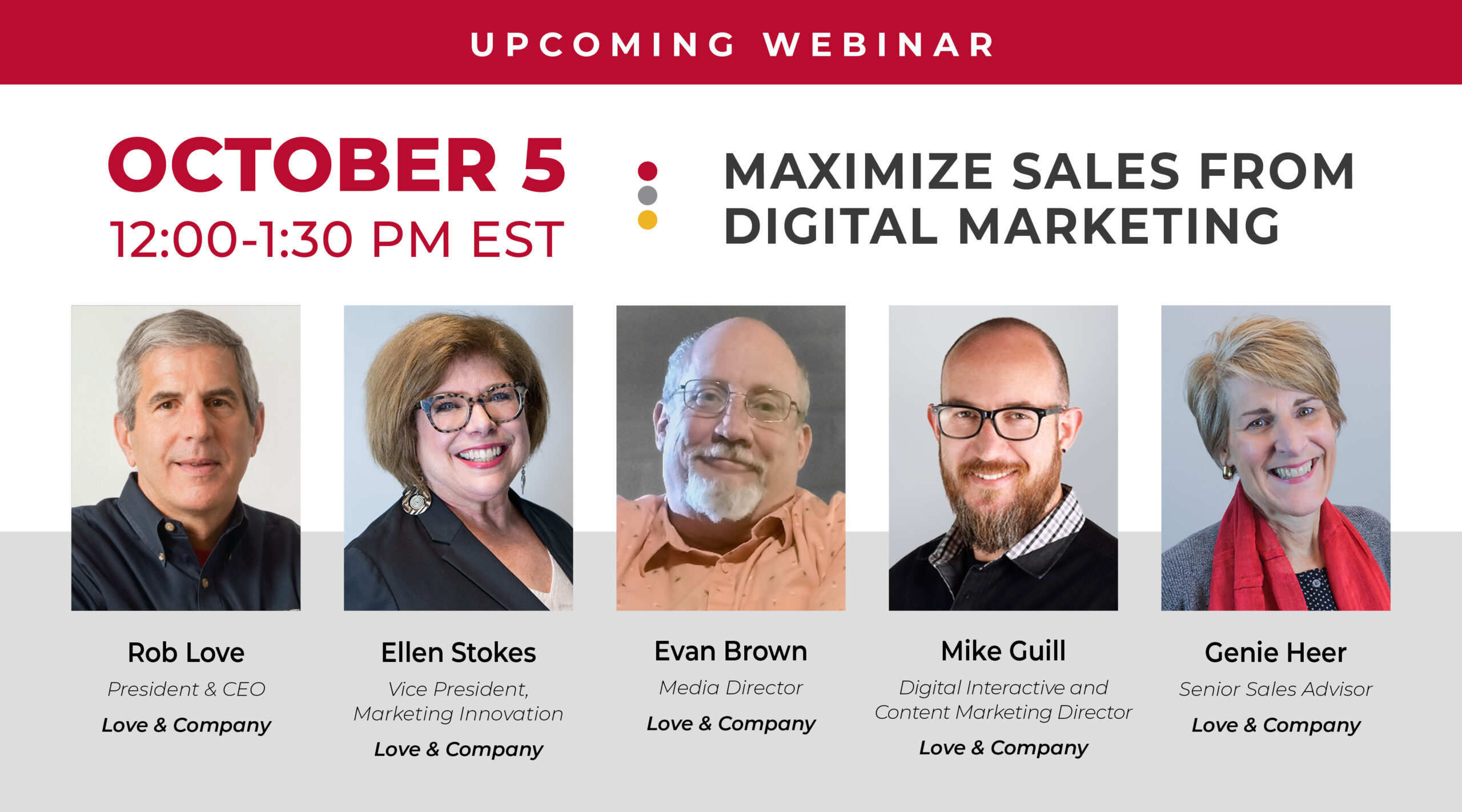 In this webinar, we will explore key considerations in planning and implementing digital marketing programs that recognize and respond to key points in the customer journey, including:
The best strategies and tactics for attracting qualified leads; i.e., inviting prospects to begin the journey
Tools and tactics to convert marketing-qualified leads—those who are looking for initial information about a community—to sales-qualified leads—those who are ready to engage with a sales counselor
Advancing the sale with digitally generated leads: How does the sales team need to evolve its approach to maximize conversions of leads to sales?
Register Today
Past Webinars
Click the title of the webinar below to watch the session recording
Presenters: Rob Love, President & CEO, Love & Company  Sara Montalto, Vice President of Strategic Services, Love & Company Kirby Nickerson, CFO, Lutheran Services Carolinas Stacey Nannery, Vice President, Sales and Marketing, Westminster Canterbury Richmond Russell Gardner, Vice President, Chief Financial Officer, Westminster...