Guest blog by senior living sales expert Andrew Morgan
It's no secret that many Life Plan Communities across the country recognize the need to take steps to increase diversity. I've worked in the senior living field in sales and marketing for more than 23 years, and the conversations that were taking place when I started are still taking place today.
The good news is that today it is not just a discussion being led by a few good-hearted people, it is a discussion that is taking place among leadership teams, board members, resident associations, industry thought-leaders, and even mainstream publications.
In February 2018, Forbes Magazine posted a blog titled, "Senior Housing Needs to Increase Its Diversity Competency" by David Hughes. In his blog post, Hughes writes what many of us already know; our field is lagging behind current diversification trends.  Although the problem is self-evident, the solution seems somewhat elusive.
Years ago, the conversation about diversity sounded something like this: "The community is too homogenous, we need to become more diverse.  Let's reach out to local churches or speak to The Association of African American Lawyers, Teachers, Nurses, Doctors, Professors, or whomever, and let them know who we are, what we offer, and that they are welcomed to become a part of our community."  Someone would arrange a meeting, the presentation would be made, but diversity levels would pretty much remain the same. Why? Well, quite frankly, the approach is flawed.
Below are some, but not all, of the mistakes a Life Plan Community can make while attempting to increase diversity and become more inclusive, along with a new approach that can move you closer to your goals.  I do not offer these suggestions as a cure-all, but rather as a new approach to consider as you move forward.
Three Mistakes to Avoid
#1 Diversity Deafness
This can be defined as selling and telling instead of listening and learning.
Diversity deafness is what happens when you launch a campaign to increase awareness among a select group of people without first establishing a relationship and learning more about them.
Old Approach:  Do a presentation about your community to church groups or associations who represent the people you feel would add diversity to the community.
New Approach: Reach out to open dialogue and learn what matters most to them. Look for opportunities to partner where appropriate and continue to build the relationship over time.
#2 Inclusion Delusion
Assuming your community is inclusive because the organization says it is. Inclusion delusion is what happens when there is a disconnect between the message of inclusion and the experience of inclusion.
It is not necessary or likely that each resident in the community will agree with the idea of diversity and inclusion.  Furthermore, even the best policies on equality and sociability can't force someone to make a person of a different race, sexual orientation, religion or ethnic group feel welcome, but if you have widespread issues with acceptance in your community they will need to be addressed by resident and staff leadership.  By demonstrating that you believe in inclusion from the top down, you set the expectation for all.
Old Approach: Say the word "inclusion" 1,000 times, and hope for the best.
New Approach: Involve resident leadership in the process and collaborate to improve on diversity and inclusion.  I suggest avoiding the creation of a resident committee on diversity.  I believe it is better to have all committees involved in creating a more diverse culture within the community.
If you want to know how you are doing with your diversity efforts, regularly allow prospective residents to experience the community sans sales counselor as a part of the decision-making process. Invite them to resident events or outings and then ask them what they think. Did they enjoy themselves?  What did they like most?  Did they make any new friends?  What did they like least?
Life Plan Communities are intended to enrich and enhance a person's life while giving them the peace-of-mind that comes from knowing that they have a solid plan for future care if needed. It is important to remember that the decision to move to a Life Plan Community is one that most people will have to live with for the rest of their life. Attracting someone to your community to increase diversity while bringing them into a situation that makes them feel isolated and miserable is not a good thing. In the end, the negative word-of-mouth is likely to derail your efforts. Spend more time on focusing on creating a resident culture of inclusion than you do on increasing diversity.
#3 Social Categorization
Assuming that the wants and needs of a single individual are the same for everyone in that group.
One of the biggest mistakes a person can make in sales is assuming that when you've met one, you met them all.  The same is true when you launch a diversity initiative.  Remember that you increase diversity in a Life Plan Community one household at a time. The conversation with a prospective resident cannot be scripted, rehearsed, or memorized. You have to sit down with a person, or couple, and get to know what's important to them.  When you truly understand what living their best life looks like to them; you'll see how the community you represent can enrich their lives, or not.
The ingredients needed for diversity are simple; you need people from a variety of races, religions, sexual orientations, and beliefs. The recipe for diversity is a little more difficult; bring people together under a unified goal and mix in a generous portion of trust.
The goal portion of the recipe is easy; create a vibrant, life-enriching community that allows each person to be the best version of themselves today. It's the trust-factor that slows the process. It takes time and consistency to build trust.
Be prepared to go the distance and know that what you are doing is not only the right thing to do, but it is also necessary if we want Life Plan Communities to remain relevant to future generations.
About the author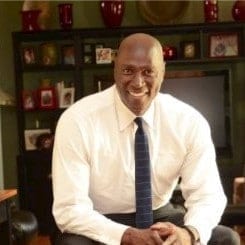 Andrew Morgan is a forward-thinking, results-oriented sales and marketing professional with a proven 23-year record of leading teams to exceed sales goals and grow occupancy. He has extensive experience executing occupancy turn-around campaigns and leading expansion projects in existing Life Plan Communities. Andrew is responsible for providing clients with essential sales training and the necessary support to effect positive change. He uses a high-impact sales coaching approach evidenced to increase sales productivity, eliminate distractions, improve focus, re-energize sales teams, and deliver measurable improvements promptly.
—
To stay up-to-date on all the trends within the senior living field, click here to sign up for Love & Company's Leaders' Board newsletter. For a deeper dive into how these trends can impact your organization, call Tim Bracken at 410-207-0013.