Can increasing diversity positively impact census?
Our FREE report explores issues, trends and opportunities related to diversity in America's senior living communities.
As the United States population, including older Americans, becomes increasingly diverse, Life Plan Communities nationwide are considering this important factor more and more in evaluating how to best attract and serve the aging populations in their areas.
Interested in how greater inclusivity may be the key to improving census? This Love Report combines an overview of emerging trends with original research, including insights from community leaders who are evolving their cultures and offerings.
To receive your copy of this timely report, simply fill out the short form on this page and it will be instantly delivered to your inbox.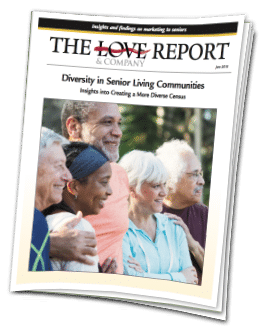 Fill out this form to receive insights into creating a more diverse census.
Love & Company
7490 New Technology Way
Frederick, MD 21703
©2020 Love & Company. All Rights Reserved.