By Andrew Nesi, Executive Vice President of HJ Sims
Aging physical plants that are difficult to maintain and market to new residents, land use restrictions, local community opposition, and rising construction costs are just a few of the senior living development challenges that providers face today in their efforts to improve and succeed. The focus of the session, "New Ways at Looking at Growth and Redevelopment" at this year's HJ Sims Annual Late Winter Conference, was to examine the strategies three leading organizations employed to overcome these challenges and deliver positive results.
Leaders shared their senior living development success stories
Paul Aigner, Vice President of Development, Transforming Age, shared his organization's experience in redeveloping Parkshore, a community in downtown Seattle on the shore of Lake Washington. Parkshore opened in 1963 and residents in its 113 independent living apartments enjoyed sweeping views of Lake Washington throughout the 15-story building. However, over time, the building became "stuck" in the past and was not as relevant as it once had been in this competitive market area. More than half of the apartments were less than 750 square feet, none had in-unit washers and dryers, and there was a no-pet policy. Occupancy had declined to 82%, while the average resident age increased to 87. Market research yielded anticipated themes: Existing residents liked the sense of community, the current amenities and were not looking to change, while prospective residents demanded larger units, modern technology and opportunities for more social engagement. The demographics were encouraging: The 65-74 age group was expected to grow by almost 40% throughout a five-year period.
Transforming Age embarked on a comprehensive master planning exercise in 2014with a capital budget of $30 million to "reinvent" Parkshore. Units were combined, in-unit washers and dryers were installed, and studio apartments were no longer on the menu. Changes to the resident experience were also implemented: Modern dining venues were created, common areas like an updated multi-purpose room, theater/lecture room and a Sky Lounge that took advantage of the views of Lake Washington were added. Operationally, the prior three-meals-per- day plan was eliminated in favor of a more desired one-meal plan, and the community was updated to be pet-friendly.
In order to maximize the return on investment, the entrance fee and monthly service fee for each apartment were analyzed, and premium pricing applied to the higher and larger apartments.
The master plan was a tremendous success. The project finished on budget, occupancy increased, there is now a 300-person wait list and the average resident age decreased to 82.
David Latina, Vice President of Development for Sequoia Living (until recently, Northern California Presbyterian Homes & Services), described the development process for one of its newest communities, Viamonte at Walnut Creek. Walnut Creek is 24 miles east of San Francisco, and about 12 miles east of Berkeley, California. The real-estate boom in Northern California is well documented with institutional capital flooding the market and new condo and rental housing development. One of Sequoia's strategic goals was to increase the housing opportunities in this target market, however, Sequoia's management realized they could not compete alone in order to secure land for a new CCRC or assume the entitlement and resource risk that would accompany going it alone.
Sequoia entered into agreements with Safeway, one of the largest supermarket chains in the country, for the redevelopment of a 25-acre former office park. Safeway's initial plans called for a mixed use development with shopping, dining, entertainment and office venues, but after local opposition forced Safeway to carve out a four-acre parcel for other uses, Sequoia signed on to develop a senior living community. This relationship achieved Sequoia's primary objective of avoiding the potentially costly and time consuming process of obtaining the required land entitlements.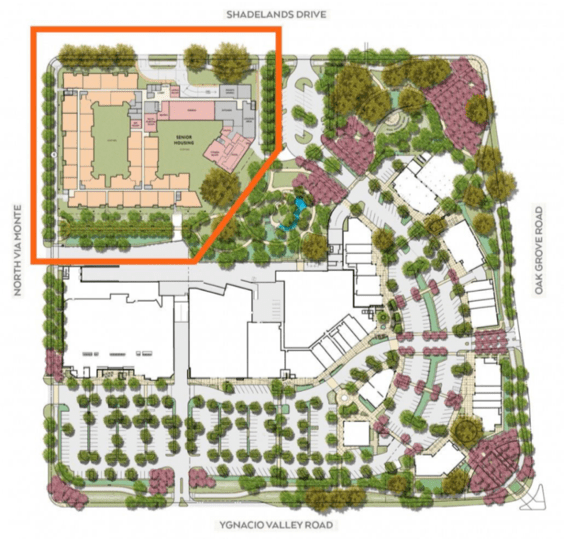 Management also recognized the human resources required for a new community development and opted to engage one of the leading firms in the field, Greenbrier Development, to serve as development consultant for Viamonte.
Sequoia determined Viamonte would be a "dynamic senior living" community and adopted a home-for-life model in order to improve operating efficiencies, increase competitiveness and offer more consumer choices. This entrance fee community would offer residents 174 independent living apartments, assisted living and memory care on campus with skilled nursing services provided by three local facilities from whom residents could choose.
The hard work by Sequoia and Greenbrier has paid off so far. The sales goal of deposits on 75% of the independent living apartments was achieved in just 12 months, which, according to management, is tied for the second fastest in the country. After closing on a $187.2 million Cal Mortgage bond financing in May 2018 ($142 million to be repaid with entrance fees), construction is underway with initial occupancy scheduled for mid-2020.
Severine Petras, CEO and Co-Founder, Priority Life Care Management, provided her unique experience in converting a former hotel in downtown Fort Wayne, Indiana, into a senior living community. A project such as this has many challenges on several fronts: design, age of physical structure, operations, and revenue management—to name a few.
The Lamplight Inn is a 14-story community that began its life as a Holiday Inn in 1968. Centrally located downtown, it was at one time well known as the destination for many social events in the city. Priority Life Care purchased the building in 2010 for $4.4 million and invested approximately $2.0 million in renovations that included a new roof, modernization of the elevators and conversion of the hotel rooms to care rooms. Supplementing its own investment were grants from Fort Wayne as part of the city's downtown revitalization program. This conversion is credited with jumpstarting a broad revitalization of the city and the surrounding neighborhoods that has surpassed $426 million in completed projects (or project under construction or consideration).
Today, the community consistently enjoys occupancy at or above 90% and generates healthy cash flow. Adding to its unique attributes is that the Lamplight Inn is the largest Medicaid waiver community in the state of Indiana, expanding the care provided to more area seniors.
About the author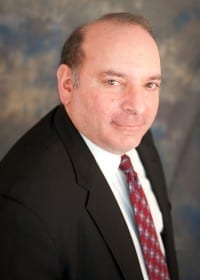 Andrew Nesi has been an integral member of HJ Sims' highly regarded investment banking team since joining the firm in 2011. Andrew is responsible for managing client relationships in New Jersey, New York and New England. Andrew's focus is crafting creative solutions to meet his clients' specific financing needs, from funding new construction or expansion to refunding existing debt through a wide variety of capital market products including rated- and non-rated, tax-exempt bonds, direct bank placement of bonds and conventional bank financing. Andrew consults with a variety of senior living and Life Plan Communities, assisting with a range of financial services, such as strategic capital planning, affiliations, acquisitions, covenant relief and debt restructurings.
For more information on this article, please contact Andrew Nesi.
—
To stay up-to-date on all the trends within the senior living field including the possibilities that mixed-use development could offer your organization, click here to sign up for Love & Company's Leaders' Board newsletter. For a deeper dive into how these trends can impact your organization, call Tim Bracken at 410-207-0013.