This blog is the second in our two-part follow-up series to our June webinar, "Senior Living Marketing after Shelter at Home," in which our panel provided insights for how communities can safely and effectively continue their census-building efforts amid COVID-19. To watch a recording of the webinar session, click here. To read the first article in this special blog series, "Five Marketing Techniques That Senior Living Communities Are Using With Success During COVID-19," click here. To explore our entire archive of COVID-19-related content, including articles and webinars, click here.
—
Now that communities are finding out which marketing efforts are most effective amid COVID-19 and are beginning to implement them, the focus now turns to converting good, authentic, empathetic conversations with prospects into sales and commitments.
As with everything related to COVID-19, teams must overcome an unprecedented set of sales challenges, especially with warm or hot leads who are—or were—on the verge of making a deposit or financial commitment. One primary challenge has to do with prospects' current perception and concept of senior living in general. So, how can communities help prospects overcome this new set of objections and close sales to keep their census strong when it's most crucial? Here are some thoughts, which we also touched on in our recent webinar, "Senior Living Marketing after Shelter at Home."
Double down
The current public perception of Life Plan Communities is generally negative, so it's time to double down on what our communities stand for and who they serve. In both marketing messaging and direct communication with prospects, this situation presents an opportunity to underscore the real difference that Life Plan Communities make in the lives of residents.
Thinking about this on a bigger scale, it's not just about the amenities. Joining a Life Plan Community grants near-instant access to the upper levels of Maslow's pyramid (the five-level hierarchy of basic human needs), so one can learn, grow, contribute, teach and fulfill his or her purpose, thanks to the environment that our communities provide.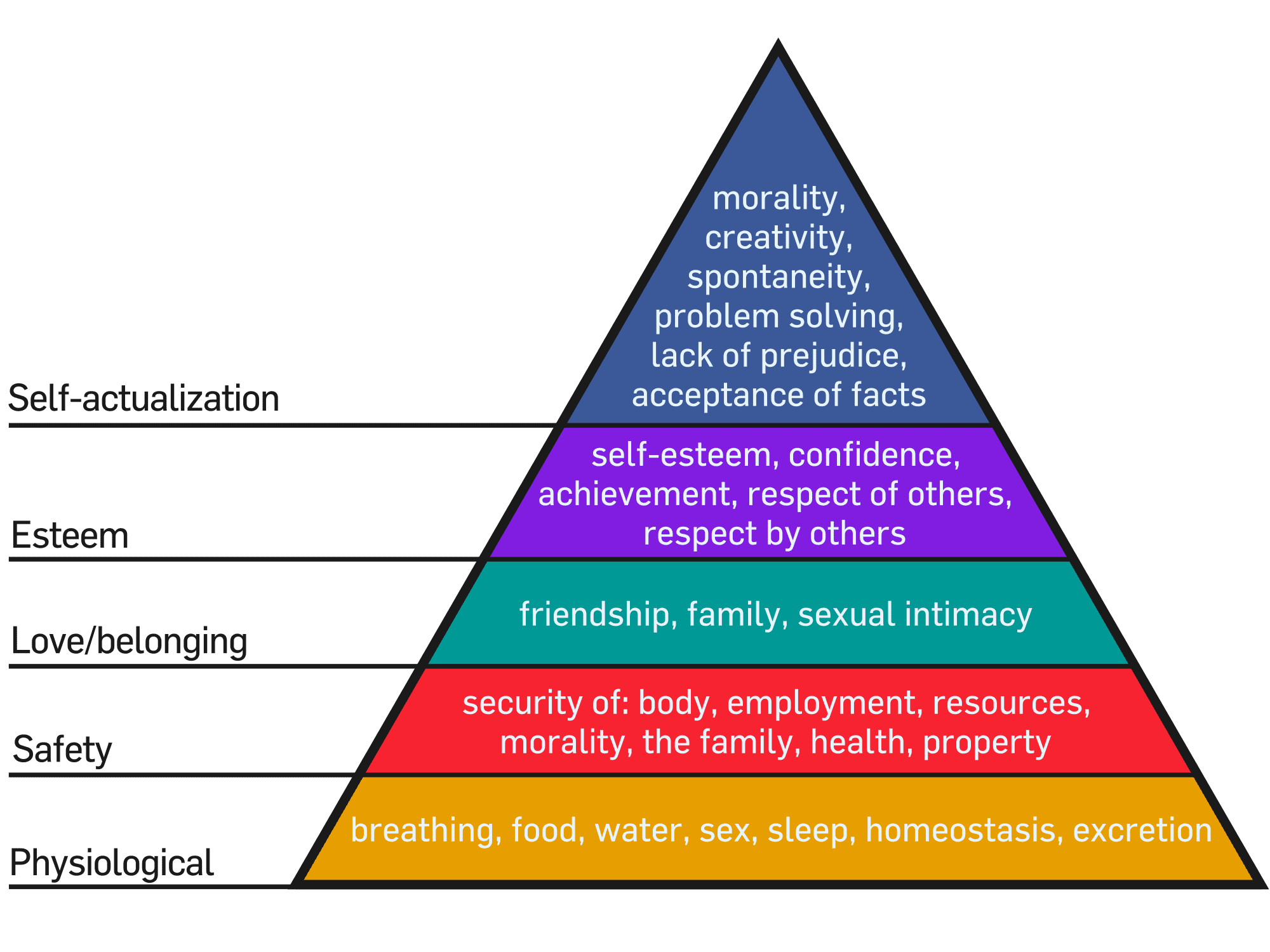 The second part of this double-down strategy is to remind people who these communities are designed for: independent older adults. While all Life Plan Communities offer if-needed access to higher levels of care, communities must be careful not to inadvertently sell their communities based on this feature, especially now.
Communities should remind prospects that people who live in Life Plan Communities utilize higher levels of care at markedly lower rates than the general population, and just because the community offers a full continuum of care, people don't simply get resigned to moving through it by default. The continuum is a safety net. Fulfilling Maslow's hierarchy of needs is the primary opportunity.
Protect sales and marketing time and budget
Many organizations have shared with us (such as during our latest webinar) that they simply don't have the time nor budget to maintain sales and marketing efforts while managing COVID-19 containment efforts as staff and resources get stretched thin. However, it is our view that organizational leadership must recognize sales and marketing functions as critical operations, and the time and budget granted to them should be protected if at all possible.
If sales staff are deployed from their primary responsibilities, sales activity drops. In an environment where the team must work even harder for each sales commitment, it puts the community at an even greater risk of prolonged census decline.
When it comes to marketing budget, cutting or reducing it right now can have a similar effect and later leave a gap in sales, census and revenue. Recent analyses of cost per lead metrics for our clients have shown that communities are having to spend more to generate the same number of leads and conversions. This reality makes cutting marketing budget counterintuitive to keeping a steady flow of quality leads, especially when leads have even higher value right now.
We have observed that clients who are maintaining (or even increasing) their marketing and advertising budgets are making progress toward their lead generation and sales goals. The takeaway here? Communities that are trying are having success.
Command the new prospect experience
As doors reopen at some communities and as effective marketing efforts bring prospects to the door, closing sales today hinges on providing a safe, authentic prospect experience. Communities must show that they are taking safety seriously by implementing COVID-19 prevention protocols into their individual appointment and tour processes, and communicating these steps to prospects before they arrive. These new elements of a prospect visit will likely look like:
Temperature checks at the campus entrance
Hand sanitizer readily available throughout all buildings
Social distancing markers and signage
Specialized, separate meeting spaces for appointments and tours
Separate community entrances for prospects
With the safety element covered, sales consultants should remember best practices and aim to make the prospect visit memorable. Even with all the safety measures, on-site visits present a great opportunity to reframe the current perception of Life Plan Communities. Planning to make appointments fun, meaningful experiences where possible will provide prospects with a good sense of the true rhythm of the community.
Meet prospects where they are
When the time comes to discuss details at the table, sales consultants should remember to meet prospects where they are. In trying to go from a conversation to a commitment, realize that prospects are considering writing what is likely the biggest check of their lives, all while economic uncertainty persists.
Whether your community has opted to lower the barriers to commitment, such as allowing entrance fees or reservation deposits to be paid in stages, prospects may find it helpful to hear current real estate data in your area as well as broader financial trends. Sales counselors should be comfortable with sharing this information while candidly and empathetically acknowledging that prospects' investments have likely taken a loss recently. Sales counselors should also remember to stress that Life Plan Communities were good value propositions even before COVID-19.
In the bigger picture, Love & Company's Director of Client Services, Amy Brodie, sums it up nicely:
"It's a different conversation right now. It's about understanding why these prospects came to you in the first place and going back to the foundational elements of why they are interested in making a transformational life choice like this. They've been planning and saving for this for a long time and it's up to sales teams to hone that message to keep people feeling comfortable and to keep the sale alive."

Amy Brodie, Director of Client Services, Love & Company
—
Stay tuned into the Love & Company Leaders' Board blog for further insights on senior living marketing amid COVID-19, and contact Tim Bracken at 410-207-0013 or tbracken@loveandcompany.com to get started on implementing any of the tactics mentioned here.