Guest blog by Mary Greer of Engrain
The traditional way of finding a new home or apartment has changed drastically in the past few years, in large part due to the rapid advancement of technology. Today's average consumer is accustomed to obtaining relevant information in real time and without friction – and finding an apartment is no exception. But it may come as a surprise that the senior living community is also taking full advantage of these benefits of technology, and in some ways is even leading this trend in a way that affects the senior living sales process.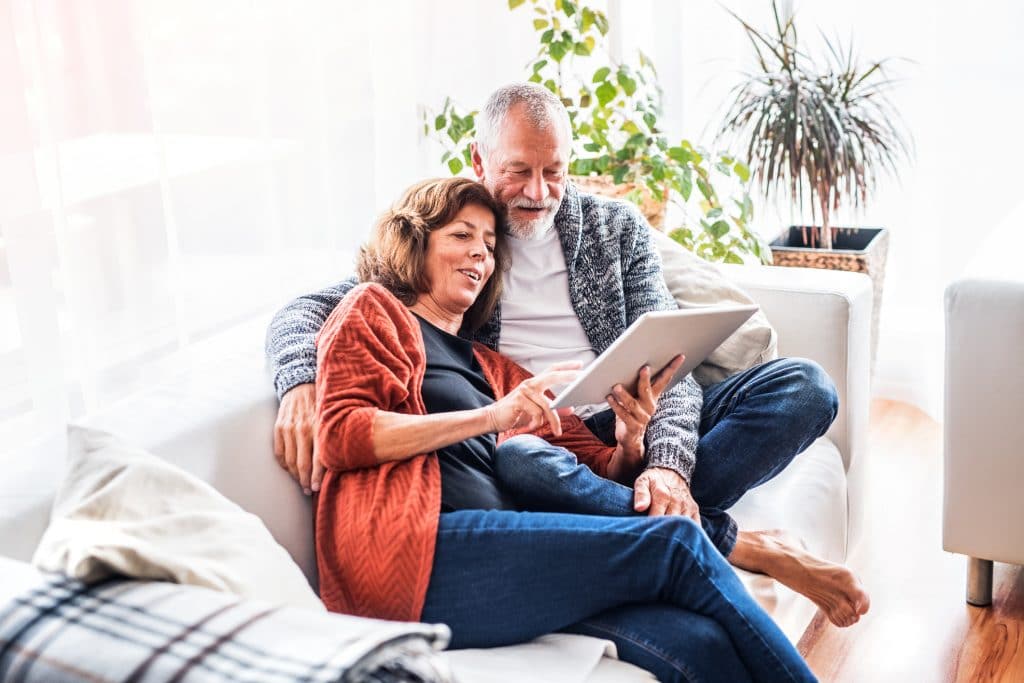 First, while there is a common assumption that seniors are fairly technology-averse, that line of thinking is just a misconception. In fact, according to the Pew Research Center, 67 percent of seniors are fully active on the internet (an increase of 55 percent in the last two decades). But beyond adopting technology in their everyday lives, when it comes to choosing a senior living community, they are fully utilizing the technology available and letting it assist them in making the best decisions.
For older adults who are considering their options in a Life Plan Community or similar option, the senior living sales process can be long and arduous, with many different components to consider. For many, the right community needs to have an active schedule of recreational activities that will promote socialization, a robust on-site medical care option, and a location that's near the prospect's close friends and family — and of course be within budget. With the boom in real estate technology, communities are using a range of applications that can showcase all this information to potential residents. Now seniors and their loved ones can shorten their walking tour and enable their families to assist from afar.
One example of this sort of application is Engrain's SightMap, an interactive mapping software, that allows prospective residents to easily go on a senior community's website to gain detail on the home's specific geographic location within the community. Presented in an easy-to-use interface, the application allows prospective residents to virtually click though different floors and units to get information about an apartment's location, dimensions, pricing and availability. For example, if a resident needs a unit near the on-site physician or close to a specific amenity (e.g. swimming pool), he or she is able to easily determine options that best fit their individual needs and instantly reach out to the on-site team to schedule an appointment. The prospective resident can narrow down the search prior to visiting the community, ultimately saving time for the onsite team and streamlining the senior living sales process on both fronts.
Another technology tool that many senior living communities are implementing into their community websites are virtual tour platforms for prospective residents to use during the senior living sales process. For example, before seniors travel to a potential community, they can take a virtual 3D tour on their computer through a scan from a Matterport camera. Matterport's cameras capture 3D digital copies of a space, giving seniors on the hunt for a new apartment the ability see incredible detail as they virtually walk through a residence. In this way, prospective seniors with limited time to travel and bring their families along can continue to leverage technology as an efficient way to shop for and experience a space without ever leaving their computer.
Once seniors visit prospective communities, there are on-site technologies available to simplify the senior living sales process. To accompany tours of the property, Engrain's TouchTour is being utilized to showcase to seniors additional information on amenities available at the community, photos of the community and maps of the available floor plans. In addition, TouchTour allows future residents to use a virtual furniture arranger tool to compare sizing of the units for those prospective residents looking to move with heirlooms or other special pieces. Even when touring prospective communities, seniors should feel comfortable knowing that there's continued innovation with the goal to simplify their journey into retirement.
Today, around one million Americans live in some type of senior living community, and that number is expected to double by the year 2030, according to the American Seniors Communities Organization. As the "tidal wave of boomers" attempts to transition seamlessly into the next chapter of their lives, they are increasingly tapping into cutting-edge technologies to make the move as easy as possible. Fortunately, this new tech makes the senior living sales process easier (and more productive) for your community, too!
—
To stay up-to-date on all the trends within the senior living field including the senior living sales process, click here to sign up for Love & Company's Leaders' Board newsletter. For a deeper dive into how these trends can impact your organization, call Tim Bracken at 410-207-0013.