By Rob Love, President/CEO
In their recent blogs leading up to our December webinar, Aaron Rulnick, Managing Director of HJ Sims, mapped out the challenges the senior living field will be facing in 2023, and Jonathan Cook, President/CEO of LifeSpire of Virginia, shared specific steps LifeSpire of Virginia is taking to address these challenges. Two common factors they both addressed were increasing revenue from entrance fees and monthly fees and overcoming staffing challenges. In today's blog, and during the upcoming webinar the three of us are participating in, I will address specific steps organizations can take on both fronts.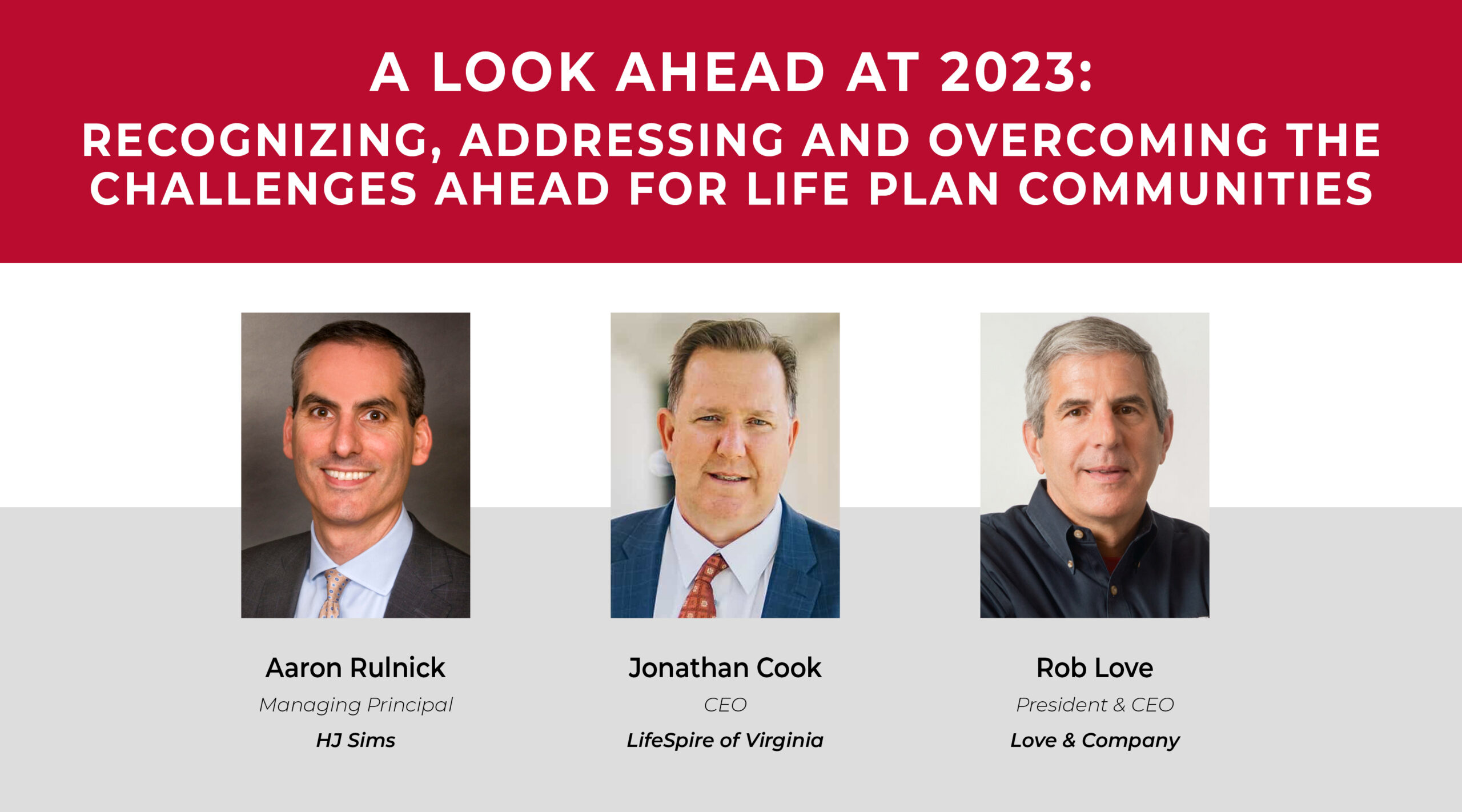 Learn More Insights on How to Prepare for 2023
View our webinar, "A Look Ahead at 2023: Recognizing, Addressing and Overcoming the Challenges Ahead for Life Plan Communities," to hear additional insights from Aaron, Jonathan and Rob on upcoming challenges for senior living organizations and how to address them.
Two Strategies to Increase Revenue
While Aaron and Jonathan address some longer-term strategies for building revenue, like launching ancillary service lines, there are two quicker strategies many organizations can take now to increase revenue: adjusting entrance and monthly fees, and launching an Early Advantage Program.
Adjusting Entrance and Monthly Fees
As home resale values have soared over the past two years, an important question for communities to explore is whether they can shift some of their revenue from monthly fees to entrance fees—or at least transfer some of the inflationary cost increases to entrance fees, rather than absorbing them through either monthly fee increases or reduced margins.
Since 2011-2012, when home values recovered from the 2007 crash to align with historical trends again, home value increases have steadily outgained typical entrance fee increases, which have averaged around 3% for much of the past decade. By the summer of 2022, the average home resale value in the U.S. reached just over $540,000. By comparison, if—in 2000—a hypothetical community's average entrance fee was in line with home values, and it then steadily increased its entrance fees by 3% a year, by mid-2022, it would have an average entrance fee of just under $400,000—a 27% gap from the average home resale value.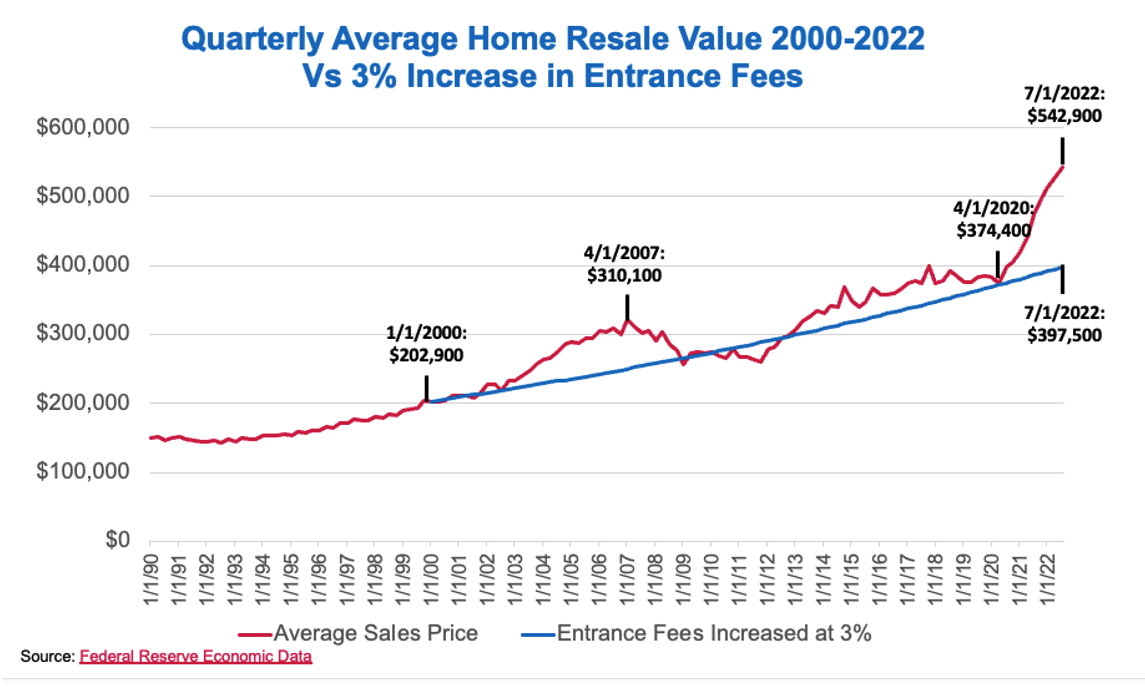 If this hypothetical community had an average monthly fee of $4,000 in 2022, and increased its fees by 8% for 2023 to keep up with inflation, the average increase would be $320/month or $3,840/year. Alternatively, if the community increased its entrance fee by only half of the differential (13.5%), its average entrance fee would increase by more than $50,000. This would generate more cash from a single sale than it would from about 14 residences that had 8% monthly fee increases.
The answer, of course, is not to do only one or the other, but to do a blend of both. Using the increases in housing values to transfer revenue increases from monthly fees to entrance fees will ease the burden on existing residents while providing communities with the ability to cover more inflationary costs and meet debt service covenant requirements.
Launching Early Advantage Programs
Love & Company previously addressed Early Advantage Programs in an April 2021 webinar with Kevin McLeod, President/CEO of Carolina Meadows, and Ben Unkle, President/CEO of Westminster-Canterbury on Chesapeake Bay, and in a blog by Kevin and Ben.
The basic concept of an Early Advantage Program is pretty straightforward: Members pay an entrance fee and a monthly fee to have ongoing access to the community's amenities while they continue to live at home, ensuring that they will be able to get the healthcare they need should their health needs change. As Ben likes to share, Early Advantage Program members are paying you now for the assurance that they will be able to buy additional services from you in the future.
At the recent LeadingAge conference, Ben shared some updates on the Westminster-Canterbury on Chesapeake Bay program. The community offers a few different contract options for its Early Advantage Program, including both lifecare and fee-for-service plans, with different refund options for each plan. Example fees for its lifecare plan are:
Entrance fee: $76,000 per person (not per household)
Monthly fee

First person: $567
Two people: $691
Since the program's inception in Westminster Canterbury's 2017 fiscal year, Ben reports that the program has generated more than $15 million in entrance fees, including more than $6.5 million in 2022 alone. The monthly fees are generating nearly $250,000 each year. This is a substantial revenue source with few corresponding costs.
Two Strategies to Improve Staffing
Develop Strong Talent Acquisition Programs
In a recent blog, I shared things from several presentations at the recent LeadingAge conference that indicated our field could be more successful in competing for talent than we currently are. Findings included that:
A high proportion of workers are open to considering working in the senior living field.
Communities can collaborate on the overall promotion of the senior living field as a career choice, creating a greater impact than any single community could on its own.
Compensation, including creating greater flexibility in employees controlling their take-home pay versus benefits, will be key to both attracting and retaining employees.
To take advantage of the opportunity to build stronger staffing levels, though, our organizations must have strong talent acquisition programs. What this means is that our staff marketing efforts should be just as extensive as our resident marketing efforts. This includes:
Developing an employer brand, one that conveys everything about the employee experience
Creating an employment website, complete with information on the work experience, career paths and team member testimonials—not just listings of positions
Marketing aggressively, especially through digital media such as Facebook, Instagram, TikTok and other popular social media tools
Implementing a strong applicant tracking system, one that is mobile friendly and makes it easy to apply, and to communicate with applicants
Implement a DEI Program That Focuses on the Employee Experience
I continue to be approached by organizations that want to implement marketing tactics to increase diversity among their residents. My consistent counsel is that organizations should first focus on ensuring that equity and inclusion are truly instilled throughout the organization before starting to think about increasing diversity through targeted marketing.
Through years of working on diversity, equity and inclusion (DEI) programs with clients and organizations, I've become convinced that achieving success in DEI can be expressed as an equation: D = E + I. In other words, to be successful in increasing diversity, we must have strong equity and inclusion programs first.
In most parts of the country, we already have diverse organizations; however, the diversity is in our workforce, not our residents. And that's where we stand to gain the most from having a strong and successful DEI program—our workforce. By creating a place where diverse workers—whether diverse in race, gender, religion or sexual orientation—feel that equity and inclusion are real, and that they are welcomed, understood and supported by the organization, we can truly become employers of choice in a market.
Thus, I believe our organizations' DEI programs should focus first and foremost on the employee experience, and on management and leadership's ability to support a truly equitable and inclusive environment. If we do that, I believe diversity in residents will follow in time.
We look forward to sharing more on these and other topics in our upcoming webinar.