Guest blog by Marc Silver, Managing Director at Piper Jaffray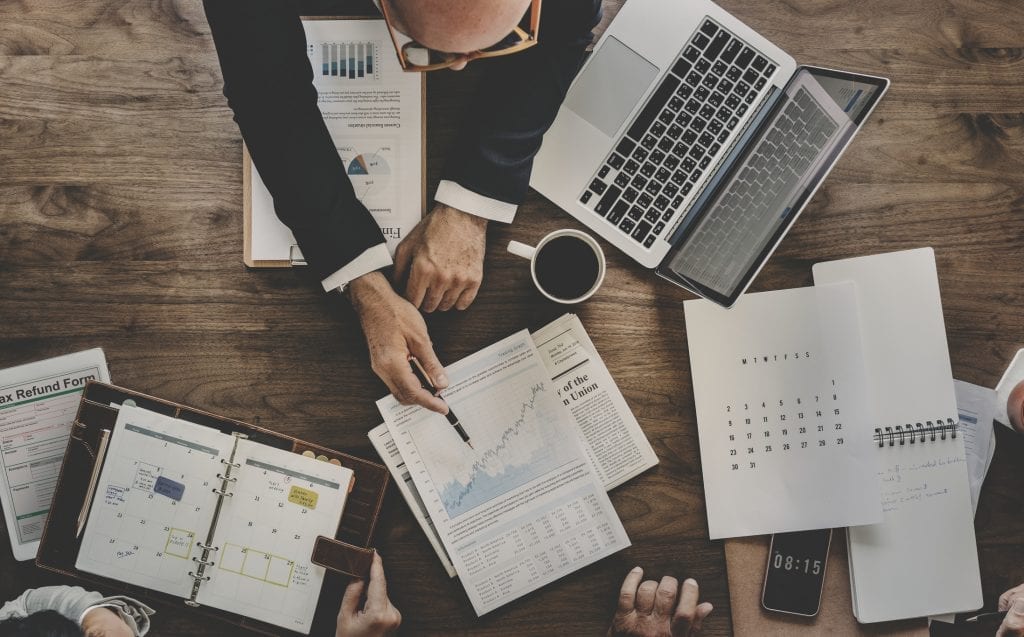 After 20 years in the investment banking industry, involvement in countless financing programs and projects for clients, I've realized just how intertwined strategic and financial planning are in positioning an organization for growth.
A good strategic plan includes metrics that translate the vision and mission into specific strategies; however, your financial health determines to a large degree what options you can implement. To determine the financial strength of your organization before you begin the strategic planning process, you must look at the following:
Ratio analysis. This quantitative method looks at items such as your liquidity (how much cash and easily converted assets you have to pay expenses and cover your debts), operational efficiency (revenues vs. expenses) and cash flow (net profit margins and debt service coverage).
Debt capacity. This analysis looks at how much money you owe and how quickly your organization can pay back the debt.  It also lets you know how much debt your organization can prudently assume for new strategic projects.
Access to capital. Although large and healthy organizations are typically in better positions to access low cost capital for strategic growth, options are often available for every organization to consider.
Keep in mind that the purpose of strategic planning is to give you a road map for the progression of your organization; however, during the process, you may realize areas of inefficiency that will allow you to increase revenue or decrease costs.
The state of mergers and acquisitions in the senior living field
Competition and the increasing complexity of the senior living field play a role in the increase of consolidation in our field. Many senior housing and long-term care executives predict that mergers and acquisitions (M&A) will at least maintain or exceed the current pace. So, what's driving the consolidation movement?
Financial distress. While many affiliations occur for strategic reasons, lack of access to capital, financial shortfalls and loss of market share may cause an organization to consider being acquired.
Declining occupancy/market share. Occupancy is key to any senior living organization. While a senior's home is your primary source of competition, it's important to understand the number of new senior housing options developed in your area over the past five years and to determine where you stand in consumer preference. Do you have the facilities and infrastructure to continue to attract new consumers and grow occupancy?
Senior leadership changes. Many CEOs are looking to retire, and this gives an organization pause for thought—is it time to consider an affiliation? Additionally, if no internal candidate is available to fill the CEO role, organizations must determine how easy it will be to recruit a high-level executive in their geographic location.
Strategic positioning for future growth and excellence. Whether it's to grow your footprint, create efficiencies, increase supply-chain purchasing power, diversify service lines or eliminate competition, affiliations may serve as a strategic growth advantage.
Staff recruitment, retention and labor costs. The demand for healthcare workers continues to rise, and as organizations find talent, they must focus on developing individuals and offering advancement opportunities. In addition, increasing wage pressure occurs as minimum wages continue to rise.
Technology demands. Some organizations may struggle to maintain the pace of investment needed to stay competitive. Additionally, technology solutions often lead to staffing needs.
Is it time to sell, buddy up or remain independent?
Affiliations, alliances and partnerships continue to be growth areas for not-for-profits. Another factor in consolidations is the competition that not-for-profits face from the growing number of for-profit communities. From my years of experience in the field, organizations that fell short on strategic planning also failed to address succession planning, occupancy declines, labor shortages and financial pressures.
Here are additional factors that might initiate the merger/affiliation discussion:
Exposure to government reimbursement (Medicaid and Medicare) in your nursing facility. Significant reliance on such revenue may be cause to consider a merger or affiliation.
The retirement of a long-standing CEO can be the impetus for affiliation discussion.
The lack of resources to reinvest, reposition or expand your organization to meet changing market dynamics is increasingly a critical factor.
Significant staffing and technological challenges may be cause for the affiliation conversation.
One thing to consider is that while M&As remain on the rise, the lack of owners/shareholders and cultural complexity of not-for-profits—boards of directors, long-standing missions, resident resistance and strong affinities—makes M&As challenging in this sector.
The affiliation spectrum
Facing questions like these, more not-for-profits are entering into partnership agreements with like-minded organizations to develop innovative service models and grow at a more rapid pace than they would be able to otherwise. In fact, a recent article in Senior Housing News states that 568 not-for-profit senior housing communities have changed owners or sponsors since 2010.
With a wide range of choices, you decide where you fit in.
Collaborations or partnerships offer organizations opportunities to build relationships that enhance their abilities to serve their communities while maintaining their individual identities.
Alliances are pacts or coalitions between two or more parties. An alliance offers the potential for the sharing of common business functions such as back office operations, human resources and purchasing.
Joint partnerships in the senior living field have occurred primarily when a group of Life Plan Communities contributes resources to create an insurance captive or when two senior living organizations launch a new business line such as home care.
Affiliations. The single-site provider trend among Life Plan Communities, assisted living and/or independent living communities, and nursing homes is to join larger systems. However, two smaller organizations may join together in a "strength in numbers" strategy.
Consultants in the senior living field can bring experience and an objective voice to help you examine an often complicated and personal deliberation of whether to join forces or do it alone.
Acquisitions of scale
What the acute care industry experienced for decades is now occurring in the senior living field. Here are three examples of recent acquisitions:
The combination of HumanGood (Pleasanton, CA) and Presby's Inspired Life (Lafayette Hill, PA) will create the sixth largest not-for-profit senior living provider in the country.
In early 2019, Acts Retirement-Life Communities (West Point, PA), one of the nation's largest not-for-profit senior living organizations, entered into an agreement to affiliate with Integrace and assume four of its senior living communities in Maryland.
Lifespace Communities (Des Moines, IA) and Senior Quality Lifestyles Corp. (Addison, TX) recently joined forces. Lifespace now has 15 communities in eight states serving more than 5,100 residents and employing more than 3,500 people.
Whether to innovate, expand market share, gain access to capital or build economies of scale, some form of affiliation may be in your future. At the 2019 Leaders' Board C-Suite Webinar on strategic planning hosted by Love & Company on September 5, I'll dive deeper into financial considerations for strategic growth and give a brief overview of how the affiliation process works. See the image below and register today to learn more about senior living financial positioning and strategic planning.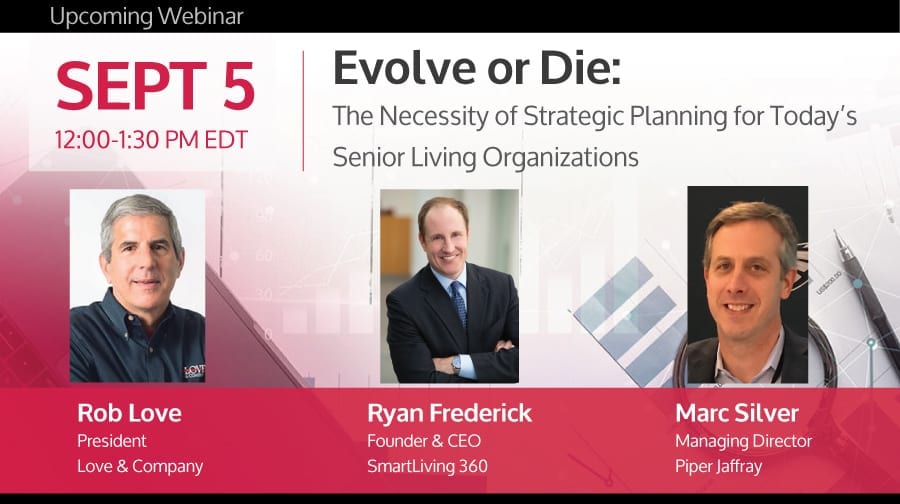 —
Read the rest of our Strategic Planning Blog Series: