By Tom Mann, Principal, Executive Vice President
I recently attended the 6th Annual BB&T Capital Markets Tax Exempt Symposium which I expected to revolve almost exclusively around the financial side of senior living. Turns out I was wrong. Very wrong. Instead, presentations ran the gamut, from company culture and the future of technology, all the way to the value of collaboration.
While there were many great presentations, I'll highlight a few key points that resonated with me.
Company Culture Matters
The symposium opened with BB&T's John Franklin discussing company culture. The BB&T mission statement is to make the world a better place to live by:
Helping their clients achieve economic success and financial security;
Creating a place where their associates can learn, grow and be fulfilled in their work;
Making the communities in which they work better places to be; and thereby;
Optimizing long-term return to their shareholders, while providing a safe and sound investment
As John says, "Our culture is based on the central theme of doing what's right." That statement, doing what's right, is beautiful for its simple elegance that we can carry into our communities. As Leonardo da Vinci is credited as proclaiming, "Simplicity is the ultimate sophistication." Test your frontline staff and see how many of them can recite your mission statement. If they can't, it's probably too complicated.
Want more insights on the future of senior living? Click here to explore where the field is headed.
Speaking of Leonardo, Brendan Malone, Sr. VP of BB&T Capital Markets, led a session "What can history's most creative genius teach us about leadership?" As Sir Walter Isaacson's notes in his biography of Leonardo da Vinci, key takeaways for being a good leader, both from Leonardo's life (and Brandan's presentation) include:
Be curious, relentlessly curious
Seek knowledge for its own sake
Retain a childlike sense of wonder
Observe
Start with the details
See things unseen
Go down rabbit holes
Get distracted
Respect facts
Procrastinate
Let the perfect be the enemy of the good
Think visually
Avoid silos
Let your reach exceed your grasp
Indulge fantasy
Create for yourself, not just for patrons
Collaborate
Make lists
Take notes, on paper
Be open to mystery
Adapt to Advance
Solutions Advisors' Scott Townsley presented "Finding the Entrepreneur Within." Part of Scott's presentation was this chart by Richard Lum (here's a wonderful article by Mr. Lum that walks you through it). Considering the rapidly shifting landscape in senior living, the ability to adapt and change has never been more important to senior living providers.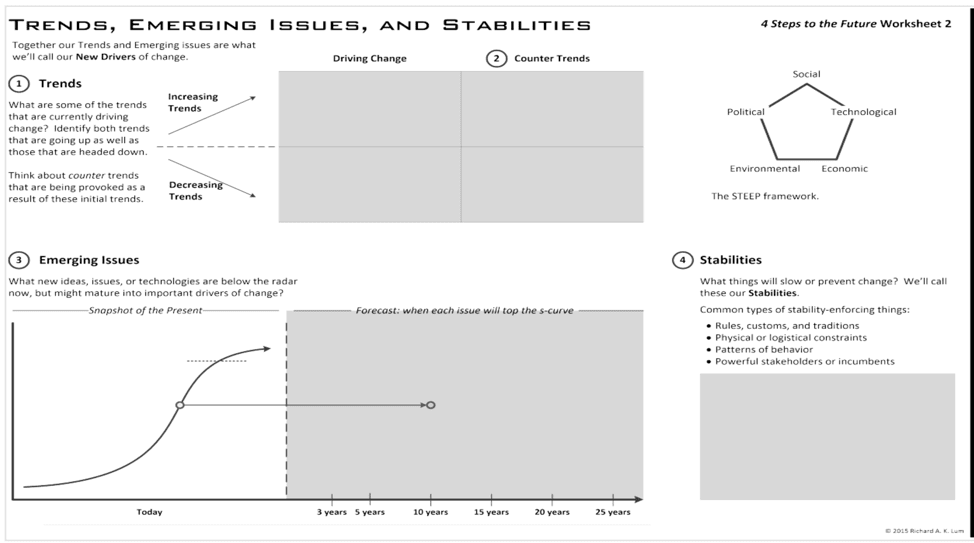 Click image to see larger version
A true testimony of reacting to an ever-changing environment was Suzanne Pugh's (President and CEO of Aldersgate) and William Springs' (former Chair of Board of Trustees, Aldersgate) presentation, Strategic Plan Execution.
Aldersgate is a community that is located in an area that has changed considerably from the day it opened its doors. To meet this change, Suzanne and her board needed to make some changes that mirrored the increased diversity of the neighborhood. One of the first strategic moves the Aldersgate executive team made was to reinvent their board structure: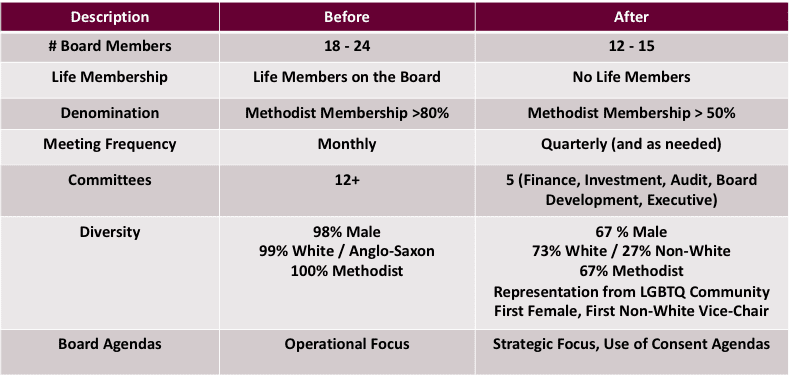 This dramatic change, along with others, has paid some huge dividends for Aldersgate in both their occupancy and their culture. Like Suzanne, I believe that tackling diversity, both resident and employee, has become one of the most pressing issues for retirement communities.
The Power of People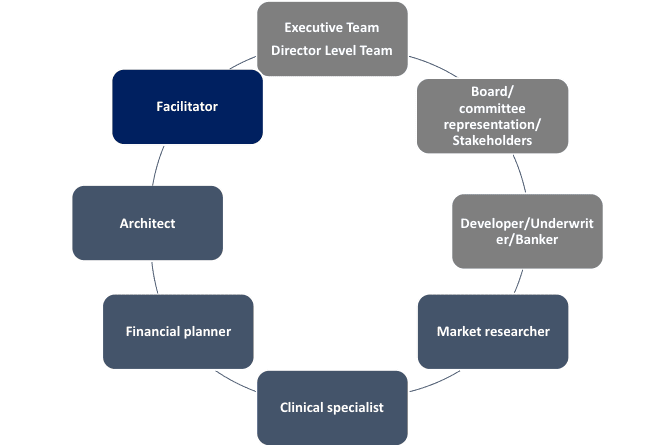 Beverly Asper of Baker Tilly, Brian Schiff of Brian Schiff & Associates, and Roger Randall of BB&T Capital Markets presented "Successful Development: Work the Process, Process the Work." Together, this team presented on the process involved in planning and launching a new community or redeveloping an existing community. The process starts with having the right people at the table including an excellent market researcher.
There are many benefits of this collaborative process. First, by having a collection of experts around you, you are more likely to enjoy a synthesis of industry trends, outcomes and best practices balanced with the reality of real life outcomes and current experience.
Want more insights on the future of senior living? Click here to explore where the field is headed.
In addition, with a broader collection of talents and professions gathered at the beginning, staging of required interactions between the disciplines happens more naturally. Your planning process should look something like this: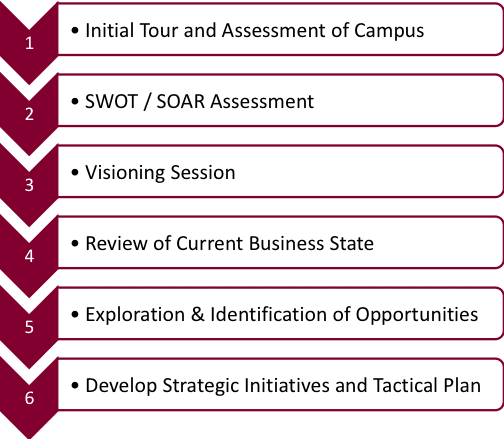 Embrace the Future of Technology
Last but certainly not least, I was part of a marketing panel moderated by my good friend, Meredith Boyle, Chief Strategy Officer, BB&T Capital Markets. My talented colleges on the panel included David Caudle, VP of Sales, Ripple by GlynnDevins; Hoppy Sell, VP of Marketing, Spectrum Consultants; and Bobby Sumner, President Retirement Dynamics. I kicked us off by presenting on the future of digital marketing. First, I showed this short video demonstrating Love & Company's philosophy to an integrated marketing program.
I then talked about the dramatic sea-change happening as a result of smart speaker technology. Smart speaker technology is being adopted at the fastest rate of any technology ever. In 2016, we were looking at less than 10 million users. By the end of 2018, it is projected that there will be nearly 60 million users!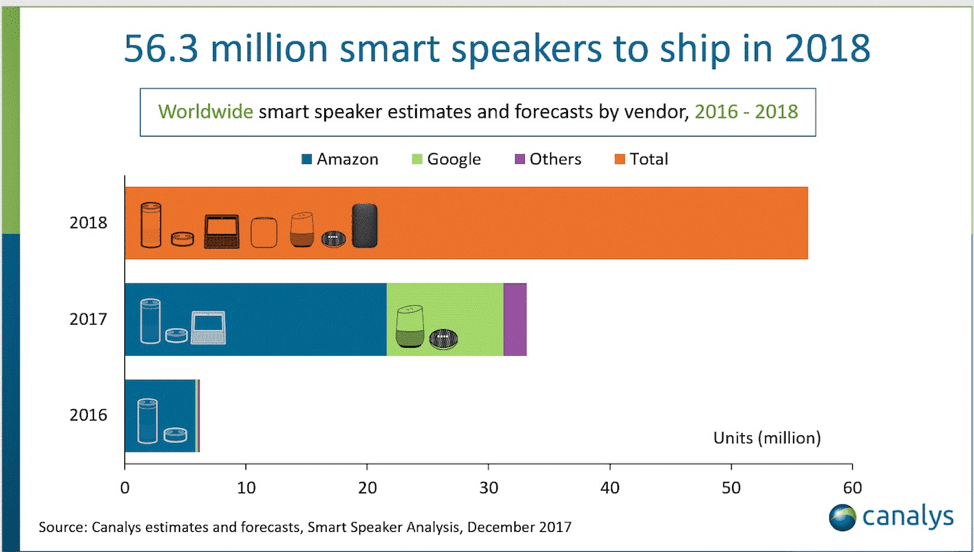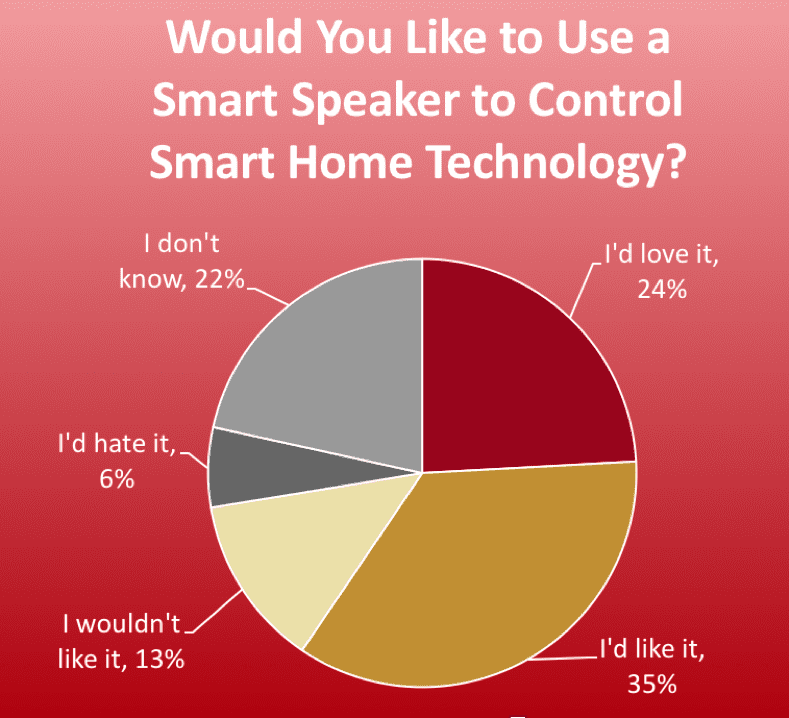 Love & Company recently completed a study for Michigan State University, the potential sponsor of a university-based retirement community (UBRD) and found that a whopping 57% of the age and income qualified seniors interviewed would like or love the opportunity to use a smart speaker, a recent trend that may just be the beginning to smart home technology.
Soon, it will not be uncommon for your prospects to ask, "Alexa, what retirement community should I move to?" and Alexa will answer based on their location, personal preferences and online reviews.
In fact, online reviews are becoming one of the key drivers to search engine optimization, so if you don't have an online review strategy, you better get one quickly. And by the way, understanding the rules of SEO is particularly important for new communities being built or about to be built. Why? Because the community doesn't have a history of reviews, so you need to know how to compete online with communities that have been around forever.
Hoppy and David presented on how technology and wellness are intersecting to increase resident participation in fitness, health, and socialization. I believe these tools, such as K4Connect, Wellzesta and Ripple, will dramatically increase the benefits residents receive from living in a retirement community.
Keep a Good Thing Going
Bobby also presented on the benefits of communities creating satellite campuses. Satellite campuses provide the opportunity to build on a site that might not otherwise work for a Life Plan Community (due to lack of acreage required for a community center/clubhouse). These smaller satellite campuses benefit from utilizing some of the amenities and services of the nearby parent campus (and the greater community), while capitalizing on the parent community's reputation and brand. A perfect example of this working like a charm is Love & Company's client, Westminster Community Winter Park (the parent), and its satellite community, Westminster Community Baldwin Park, which is just ½ mile away.
But perhaps the best part of the BB&T Symposium was the opportunity to exchange ideas in a beautiful setting (this year's event was at Sea Island, GA) with industry leaders.
"I attend several different conferences each year, many of them much larger in scale and longer it duration, but the BB&T Symposium leaves me with more applicable information and provides more meaningful networking opportunities over a 2-day period than any of them. On top of that, if you have to attend a winter conference it is best to do that in the south!" noted Alex Patterson, Vice President of Presbyterian Homes of Georgia.
Susan Rucker, the Board Chair for LifeSpire of Virginia agreed, "Making good governance decisions requires that we understand what is going on in the industry and how that can affect us in all of our markets. By attending conferences like the BB&T Capital Markets Tax Exempt Symposium, we gain outstanding insight into current trends and meet others that are dealing with similar challenges and opportunities. It makes me a better board member. I am very grateful to both LifeSpire and BB&T for the opportunity to attend this excellent event."
I was impressed with the willingness by providers to listen to new ideas. Perhaps it's due to the realization that senior living faces substantial new challenges (Amazon, Uber, Lyft, Google, etc.) that could disrupt our industry. The times they are a-changin'!
For more information on the future of senior living, and how Love & Company can help you navigate the changes, reach out to either Tim Bracken at 410-207-0013, or Rick Hunsicker at 214-906-3801 today. Or, reach out to us online.