Guest blog by Melissa Pritchard of SFCS Architects
Our series on the master planning process explores the necessity of conducting market research before starting a master plan for a senior living start-up, repositioning or expansion. While we will discuss more details in the upcoming webinar, "Team-Based Master Planning: The Most Efficient Way to Bring an Expansion or Start-up Community to Reality" on July 30, this article presents a few key questions to ask the design team – before anyone starts to draw.
—
When an organization decides to move forward with planning for a blue sky or expansion senior living project, many clients want to jump straight to design because of an excitement and interest in the physical environment. But we frequently caution that it is imperative to understand all facets of the project first, including market demand and consumer expectations, financial feasibility and operational impact, as well as the opportunities and constraints of the physical environment.
Of course, as Rob Love also noted in this Master Planning series, senior living market intelligence is critical, and marketing's main role during the master planning phase is to ensure the plans are supported by critical data indicating what the consumer actually wants and is willing to pay for. In that the same vein, it is the architectural design team's role to ensure plans reflect a community's short- and long-term objectives.
Although we certainly join others at the master planning table to look deeply into the details of the market study—understanding the details of the data is critical before we can start meaningful design—asking the right questions is just as important for us as architects and designers. Asking a lot of questions and understanding priorities and goals is critical before entering the design phase; design goals ultimately need to support a community's vision for how it plans to improve the lives of the seniors it serves.
Here are some of the questions we start with, so that we can bring the project into our own Collaborative Planning Process:
What are you trying to achieve with this new project?

What are your highest priorities?

What are your goals, and what are the outcomes you are looking for?

What is most feasible from a project perspective?

How will you define success five years out?

Where does the greatest need lie? And does the market study along with existing operations validate it? Does the feasibility study endorse it?
Once we better understand these details, we can zoom out—so to speak—start running multiple scenarios, and determining which scenario sets up the client the best for success; this process is essentially a matter of what "ticks the most boxes."
Our Collaborative Planning Process is based on the "design thinking" modality, and it helps us even further utilize the answers we receive to the above questions to ensure we're connecting from the very start of the master planning phase. Here's a snapshot of our Collaborative Planning Process:
Understand (the questions we asked above)

Listen (inventory and assessment)

Envision (design charrette to look at potential scenario solutions)

Evaluate (test and refine options)

Implementation (deliverables and next steps)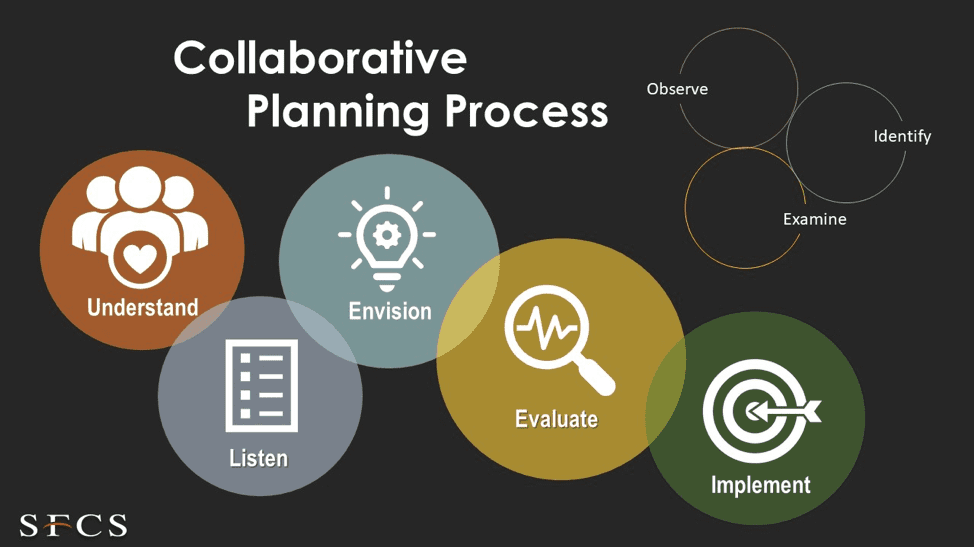 Understanding these factors on a deeper level can make a significant difference in the project. If you skip over this step too quickly and try to get to solutions without doing the necessary homework, you risk missing the mark in both time consuming and astronomically costly ways.
For example, some think they want smart home technology in their independent living residences, only to discover their market doesn't want any of these current trends in their homes. Others long to roll out a project with nothing more than a solid value proposition anchored fully in care, but find that in their market "alternative living" opportunities are in too high a demand to ignore; they're finding they need to offer more than just great care; they need to offer ways people can improve their quality of life and live longer. So, sometimes the disciplined work of data analysis and consumer research reveals surprising results—but in a good way, in that it enables an organization to course correct before going to market.
Therefore, it is so important to consider the overarching, sustainable design as well as the health and wellness goals early in the master planning process. As Craig Witz of Witz Company also explores in this series, you can weave flexibility into your plans in so many clever ways at the master planning level, and many of these ways can help meet the demand for alternative living and enrichment opportunities.
_______
Remember to sign up for our July 30 webinar to get more details about our Team-Based Master Planning process, with complete insight from Rob, Melissa and Craig. Click here to register!
If your organization is thinking about an expansion or new senior living product, feel free to reach out to Tim Bracken at 410-207-0013 to explore how to get started with a market demand analysis.