By Dan Rexford, Vice President, Marketing Innovation
Because you are striving to attract experienced consumers, artifice is unlikely to work with the many people who have been responding or declining to respond to marketing campaigns for upwards of five decades. So, one of the hallmarks of any worthwhile marketing effort is authenticity: telling the truth attractively.
The balance of power between consumers and sales and marketing has shifted. Consumers have more information than ever before, and they recognize that they do not need to engage with your sales team to evaluate your offering. They can use their network of friends, family members, trusted advisors and the vast amount of information on the internet to make decisions.
Consequently, your digital program is very important.
When you are thinking about your digital tactics, it can be helpful to have a framework – a construct – identifying the major steps a prospect must take before moving into your community.

Although your digital program will be doing some heavy lifting, it does not run in isolation. The highest performing marketing programs are confluent; they are made up of authentic messages that are strategically aligned to reach prospects in a variety of ways. Other elements of a strong program include press relations, community relations, reputation management, run of press, direct mail and broadcast. Even though a lot of technical aspects are needed for digital, content is still king, and you'll want your messaging to be congruent and inspiring.
Let's discuss the process your prospects undergo to see how various digital techniques can be applied.
Become aware and pay attention
Obviously, prospects cannot choose you if they aren't aware of you. In the digital realm, you should use these two tools: search engine optimization (SEO) and search engine marketing (SEM). 
SEO's objective is to enhance the likelihood that search engines (e.g., Google) deliver your website when someone queries your category. Search engines strive to provide the best results to their search customers. They make this judgment based on many factors, but these three are most critical:
Indicators of the quality of the information you provide
The quality of the mechanics of your website (i.e., website speed and mobile friendliness)
How effectively your website answers the searcher's inquiry, cross-linking to other sites, frequency of visit, etc.
SEO techniques are complex, ever-changing and beyond the scope of this article. It is particularly challenging to achieve strong results for general searches, such as the term retirement communities, because so many large organizations and information aggregators (e.g., A Place For Mom or Caring.com) are vying for prospects' attention.
However, the battle for local search results is less intense and, arguably, more important given that most communities draw the majority of their residents from within several miles of their location. Two keys to improving local search results include the following: 1) provide local information on your website – a map, area attractions, descriptions of the general area, links from other organizations, etc.; and 2) build and maintain a strong Google My Business site and presence and pay particular attention to reviews, something Google views as a strong indicator of website quality.
SEM is advertising. Search engines serve up ads when they receive relevant queries. Type "retirement communities" into your browser and you'll see these ads. The keys to running effective SEM is to choose the right keywords, continually test and revise. Although prospects learn from the content of these small ads, the goal is to inspire people to click and seek more information.
When people click on your ad or visit your website, you've opened up yet another digital channel: remarketing. Have you ever clicked on an automobile manufacturer's website? If so, you've undoubtedly seen ads for that automobile when you've gone elsewhere on the internet for other information. This is remarketing, yet another opportunity to engage with your prospects and inspire them to learn and interact.
Learn and interact
When prospects click on your ad, you want to make the most of the opportunity. You want to answer their question and also inspire them to want to learn more.
Many organizations respond to a click by sending inquirers directly to their website. This is risky business. Does the page the inquirers view answer their question, or does the burden shift to the inquirers forcing them to search your site for an answer?
To provide a better experience, direct inquirers to a landing page, a page designed to answer their question and provide useful information. Or direct them to a particular type of landing page called a "squeeze page." On a squeeze page, you'll use the principle of reciprocity: "I'll provide you with ________ (typically useful information or an invitation), in return for you providing me with your contact information."
In this way, you will have provided value to your prospects as well as gained something of value – their contact information – enabling you to contact them yet again. Frustratingly, the vast majority of people will only provide their email address. They simply do not want to speak with sales at this juncture. And, if you require the prospects to provide their phone number before you provide value, you'll find far fewer people will respond.
Now that you have their email address, you will want to cultivate the relationship. Introductory email series, regular updates, invitations and other useful information can cultivate the relationship and inspire people to take the necessary next step: talking with someone on your sales team.
Talk and experience
With the shift in the balance of power between consumers and sales and marketing teams, it can be difficult to persuade someone to talk with salespeople. Digital can help you by providing a continuing stream of messages that cultivate relationships and build trust.
If you are persistent and include valuable, authentic stories that evoke emotion and change beliefs, you will inspire someone to call. And, if you handle calls well, you'll inspire the caller to experience your community.
Commit
Because sales cycles can be long, as shown below for entrance-fee communities provided by Enquire, you'll need your digital program to keep working for you.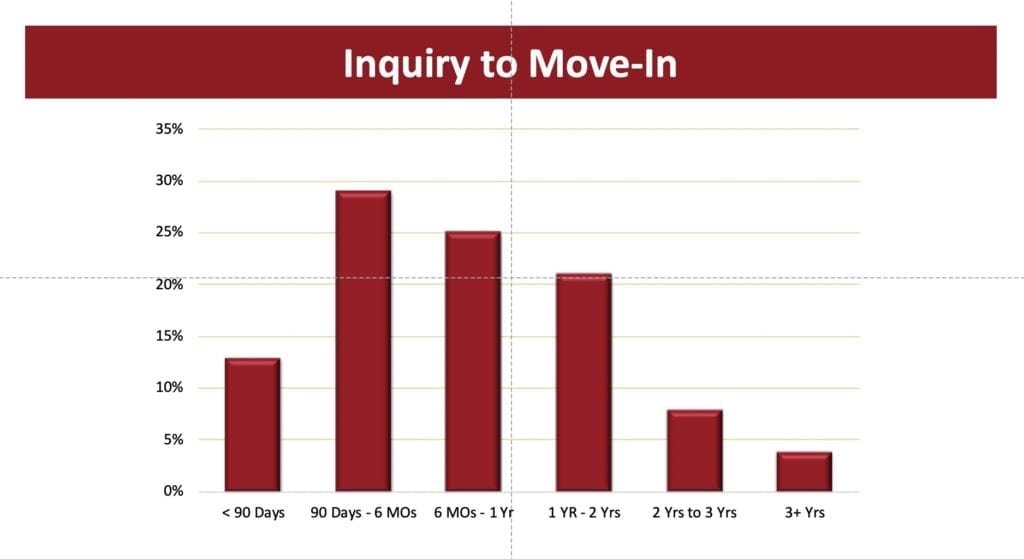 An opportunity most organizations fail to seize is using the sum total of their digital program to reinforce prospects' decisions to engage. If you are seriously considering buying a car, you've probably noticed that you are hyper-aware of advertising and notice both the specific model and the brand at every stoplight.
Digital marketing, like all marketing, is as much about reinforcing prospects' decisions to engage, continue to explore and commit as it is about generating new leads. Recognize that your audience includes people who are engaged and are seriously considering making a move when you create your content.
This Love & Company explainer video for digital marketing has received accolades from people who want to learn about how a digital marketing program can function.