By Rick Hunsicker, Vice President, Sales Services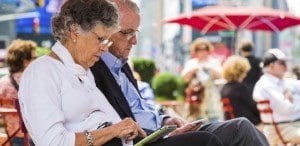 This is an interesting question:
What do you market first when trying to generate new prospects for your community?
Historically, virtually all of the senior living marketing content has been about the benefits, advantages and opportunities of the senior living community being marketed.
The problem with this approach is that it usually generates responses only from consumers who are already in the "search" step of the customer decision and purchase process. These are the seniors, and in many more cases now the families, searching for a community because of an impending need, usually related to a health care issue. This is one reason why we have seen such an increase in the average age at entry and higher levels of care being needed, even in independent living.
So, what's the other option?
The other option is to market valuable information for those in the very early stage, even before the "need recognition" step of the customer decision and purchase process. We call this approach "demand creation" through educational content marketing.
We have found that there are many seniors and families who are eager to become educated before there is an obvious need to do something. And we have found that they respond to offers of helpful information that will help them make the right decision in the future.
But what's most encouraging is that when the information provided helps them realize the disadvantages, risks or issues of their current or near future situation, many of them will engage with the community that has provided the educational information much sooner. Because that community has helped them become an informed consumer, they connect with that community first!
We have recently seen and been involved with communities that have seen a significant increase in new lead generation with this approach — at a much lower cost per lead than expected. And they are getting more of the kind of leads that everyone is looking for today, the more active senior for independent living, or the senior needing assisted living or memory care, but coming in at an earlier stage.
Editor's Note: This blog originally was posted on the Hunsicker Senior Living blog which we are now migrating to this current site.
Attending LeadingAge Minnesota? Contact Rick Hunsicker at 214-906-3801 to schedule a time to speak with us. We'd love to introduce ourselves.