Boomers pushed the country towards its first environmental awakening, leading to the first Earth Day in 1970. While many of the issues they raised were ignored in the booming 80s, they have now resurfaced due to the increased concern of climate change.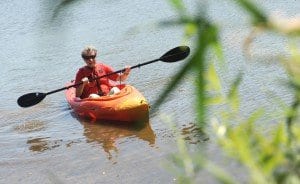 Today, many of those same boomers are hitting retirement age and are beginning to consider their options when it comes to retirement living. They are looking for a community that not only offers all the necessary services and amenities, but also has an interest in the environment and sustainability. As such, more communities are offering everything from energy efficient appliances and green energy-powered buildings to community gardens and carefully cultivated green spaces.
"I always appreciate the exquisite beauty of the 82 acres and how well it is taken care of," says one resident at Pennswood Village, a Quaker faith-based Life Plan Community. "I find myself filled with awe and gratitude as I walk the grounds or simply look out a window."
An AARP study showed that a majority of seniors valued their community being easy to walk, with many wanting their community to be near public transportation and close to a park or green space.
>>Sign up for our enewsletter today and get more helpful insights!<<
In fact, a study from Civano Living, Ypartnership and American LIVES, found that a majority of Boomers would pay more for a community that has green, sustainable practices—with the average Boomer willing to pay up to 7 percent more. This is why it will be important for senior living communities to strategically plan for sustainable policies and updates to campuses in the coming years.
However, "going green" doesn't just relate to energy efficiencies and updates to the campus. A dedication to green policies can translate into better relationships with the larger community and even a healthier resident population.
Being Good Stewards of the Land
One of the main Quaker principles is to be good stewards of the earth. Kendal Corporation, a not-for-profit Quaker organization with senior living communities located across the country, is now extending its green practices by partnering with the San Francisco Zen Center to develop a community where sustainability is a core principle.
"The community will include green spaces, farm-to-table dining, zero waste, and many other policies that will ensure the preservation of the environment," states Colleen Mallon, Chief Marketing Officer at Kendal Corporation.
From this principle, two Quaker faith-based Life Plan Communities in Pennsylvania have incorporated sustainability into everyday life: Pennswood Village in Newtown, Pa. and Kendal-Crosslands in Kennett Square, Pa.
Pennswood Village
Pennswood Village has taken sustainability very seriously, a trait in the community that runs all the way back to its founding in 1980. In fact, according to Jennifer Doone, Marketing Director at Pennswood Village, "residents began recycling in the 1980s—long before recycling became second nature to most people."
The community earned a LEED (Leadership in Energy and Environmental Design) Gold Certification for its assisted living building in 2011. LEED is an internationally recognized certification standard for green buildings and communities. This dedication to green policies at Pennswood Village has helped transform the community's approach to future designs, construction and maintenance processes.
Along with this dedication, the community has adopted a geothermal system to heat and cool the community's main building and health center. Another standout is the community's award-winning storm water management system that is discretely and efficiently at work beneath 10 acres of beautiful meadowlands. A comprehensive recycling program, community gardens, sustainable food sourcing, and responsible landscaping practices are just some of the green policies that Pennswood Village has implemented over the years.
Residents at Pennswood Village are also actively involved in making the community even more environmentally conscious. The Environmental Concerns Committee is always working to implement or encourage sustainable practices, including an initiative to reduce plastic bag use, which has been very successful since it was first introduced in July 2015.
"Our environmental committee is very active," says Doone. "Their current project is a pilot program testing out reusable take-out containers for the dining room that will not only withstand the dishwashing machine, but will greatly reduce the amount of waste traditional containers make."
Environmental awareness can take many forms at Pennswood Village. Whether it's a documentary screening, an Earth Day celebration complete with a parade, or a play written by a resident and performed by sixth graders from a neighboring school, Pennswood Village is raising awareness about climate change in the greater community.
Kendal-Crosslands Communities
Kendal-Crosslands Communities have been a leader in Life Plan Communities for over 40 years. Part of their mission is to "support the concepts of ecological understanding and sustainability, including energy conservation."
Energy conservation is the main focus of the Kendal-Crosslands Energy Committee. They are a group of about 10 residents who are devoted to developing ways for the community to continue its pursuit of sustainability. A recent endeavor of the group is the installation of a TV screen displaying the levels of energy consumption on campus. By simply showing residents and staff how much energy was being consumed, more people began adopting energy-saving habits like using cold water when doing laundry, recycling, and making sure windows are tightly shut. In addition to these types of awareness projects, the Energy Committee at Kendal-Crosslands is looking into the feasibility of heating the pools with solar energy instead of fossil fuel.
"Our residents are very active in raising awareness about sustainable practices," explains Michele Berardi, Director of Community Outreach at Kendal-Crosslands Communities. "Our Quaker traditions and values certainly have an impact on how we conduct day-to-day operations on campus, including everything from more sustainable energy practices to sharing our beautiful environment with others."
Environmental stewardship doesn't simply apply to policies on campus, but is also part of being a good neighbor and supporting the larger community. In fact, Kendal-Crosslands was one of the first Life Plan Communities in the country to be designated as an official arboretum, offering 500 acres of beautiful woodlands to explore. With 300 landscaped acres, including paved walking paths and educational opportunities, the beauty of the environment is easily accessible to many people.
The Appeal of Sustainability
John Knox Village recently embarked on a master planning expansion project, which included thorough market research to understand what the next generation of seniors are looking for. One expectation they discovered was that Boomers in their market are attracted to communities that have sustainability as part of their mission.
With this in mind, The Woodlands at John Knox Village, a revolutionary skilled nursing and short-term rehabilitation center that opened in May 2016, was designed to be a sustainable building. The Woodlands received a LEED Gold Certification from the U.S. Green Building Council (USGBC) for the building's design and strategies for reducing energy consumption and water usage, promoting better indoor air quality, and improving quality of life for residents.
In fact, according to the USGBC's website, Gold Certified LEED projects like The Woodlands "are responsible for diverting over 80 million tons of waste from landfills, consume a quarter less energy, and generate 34 percent lower greenhouse gas emissions."
"It was very exciting to become LEED Gold Certified on the Woodlands project, and we are now looking for ways to incorporate more sustainable practices into the rest of the John Knox Village community," explains Monica McAffee, Director of Marketing at John Knox Village.
Looking Ahead
Sustainability is no longer a novelty feature of senior living communities as more Boomers age into the market. This trend is not only good news for Life Plan Communities already embracing or beginning to incorporate green policies, but is good news for the environment.
And while there are many ways to become more sustainable, the main part of being a green community is to embrace the roots and culture of the community, to better serve the residents and the environment.
To learn more about green communities and sustainability in senior living, please contact Tim Bracken at 410-207-0013 or Rick Hunsicker at 214-906-3801.