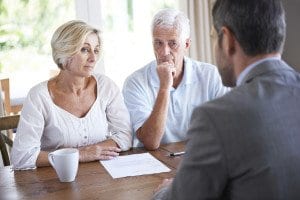 By Chris Carruthers, Vice President, Health Services Marketing
Healthcare marketing has evolved over the last few years: The sales cycle has lengthened to anywhere from 3-9 months; you have to think of marketing assisted living the way you were marketing independent living three years ago; then, you have to layer on a plan to accommodate the different ways adult children search for information.
A prospect's home is still the biggest competitor for move-ins, especially now that rehab-at-home services are more popular than ever before. Therefore, sales counselors need to be seen as advocates for the adult children and their loved one, and guide them through the options that are available. What you say in person needs to match what is seen in your marketing efforts.
With that in mind, here are ten of the most common marketing mistakes I see, in no particular order:
1. Marketing without a plan
Develop a marketing plan so that you can measure the results of your efforts, and adjust accordingly. The plan should also include separate tactics for both the adult child and the prospect.
2. Not using a Customer Relationship Management program (CRM)
Many communities still use handwritten reports and Excel spreadsheets to track activity. This makes it impossible to measure marketing tactics, and does not allow for a consistent method for following up with hot, warm and cold leads.
3. Not understanding each of your prospects
The adult child and the prospective resident are each prospects, and you need to market to these two audiences in different ways.
4. Using print advertising to reach an adult child
Except in small rural markets, print is best used for information like showcasing a new "wow factor" or campus renovation/facelift, but it should not be the primary method of advertising to the adult child. While many seniors still read the newspaper, they are often not the decision-makers in this scenario.
5. Using digital strategies only as the initial touch point
Adult children do their homework online before they reach out to schedule a tour. Providing only the initial touch point digitally and expecting the adult child to call immediately after is not realistic. These leads need to be nurtured through digital inducements and e-mail drip campaigns.
6. Having a website that isn't mobile-friendly
Adult children use their cell phones and tablets to search for information, so if your website or email campaigns do not translate appropriately and effectively to a mobile device, the adult child will be on to the next community.
7. Mailing collateral material to adult children
Adult children want information while they are online, when they request it. They do not want to wait for hard copies of your collateral to be mailed to them. Your collateral package should be converted into digital flipbooks so the adult child can have quick access to the information they need.
8. Showing lifestyle photos that do not relate to the consumer
Instead of showing mother/daughter close-ups and staff providing services, the adult child and the prospect want to see examples of the lifestyle, similar to how you may market independent living.
9. Sharing the cost of services online
By sharing the cost of your services, either online or in a collateral package, you allow the adult child and/or prospect to make decisions about value and cost without your community having a seat at the table. It is difficult for the adult child to compare service levels in assisted living, and a face-to-face conversation offers the opportunity to clearly state the pricing and compare with competitors.
10. Slow response time
The biggest mistake sales counselors make when working with prospects or the adult children is a slow response to either a phone call or online inquiry. You need a contact form on your website that requires a name, email and phone number, and an automatic follow-up email thanking them for their inquiry. Next, you need to respond as quickly as you can (if you are not at your desk), and make sure you have a method for responding to inquiries that come in after hours and on the weekend.
For more information on how to boost your healthcare marketing, call Tim Bracken at 410-207-0013 or Rick Hunsicker at 214-906-3801.