PRESS RELEASE
FOR IMMEDIATE RELEASE
August 03, 2016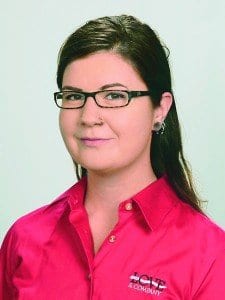 Frederick, MD – Love & Company, a nationally recognized marketing firm specializing in senior housing, has welcomed Clara Daly as its new Interactive Communications Director.
Daly's arrival marks continued growth in Love & Company's Integrated Media Services department. To capture the attention of the growing number of boomers and seniors using the internet, Love & Company has rapidly expanded its expertise in the digital arena.
"No longer can a community just throw up a basic website," says Daly. "You really have to understand boomers and seniors, and how they approach researching retirement communities online. With everything we do, we're gathering real time data and then adjusting. Then, we're making sure that information is seamlessly transferred to the community's sales team."
"Clara has a rare mix of design and programming skills. Her uniquely diverse digital background makes her the perfect person to steer our web efforts," says Love & Company Principal and Executive Vice President, Tom Mann. "It's not enough to have a pretty website. To really be successful, you need to integrate social media and traditional media, search engine optimization, public relations, pay-per-click advertising, and a customer relationship management software program. With Clara, we continue to up our game. We're beginning to apply innovative, cutting-edge techniques that are bringing real results for our clients. I'm excited for where we are headed!"
###
Media Contact: Wallis Shamieh; wshamieh@loveandcompany.com; 240-575-2008
Love & Company is a full-service research, marketing, sales management and advertising firm that specializes in retirement communities. For more information about Love & Company, call Tim Bracken at 301-663-1239, Rick Hunsicker at (214) 906-3801, or visit our website at loveandcompany.com