By Rob Love, President, CEO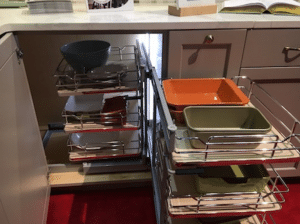 This past month, I visited two major, non-senior living conferences: The Consumer Electronics Show (CES) in Las Vegas, and the National Association of Home Builders International Builders Show (IBS) in Orlando. My goal was simple: In the spirit of our company's philosophy of "Always Thinking," I wanted to get a better view of "What's Next?" for senior living by going outside normal senior living venues and exploring where technology and home design are today, and where they will be tomorrow.
It was an energizing experience, and I strongly recommend that forward-looking senior living CEOs mark their calendars now to attend the 2018 Builders Show next January 9 to 11, and take at least their marketing and facilities directors with them.
Here's a quick overview of each of the two shows, with links to articles that go into more detail on specific topics.
Consumer Electronics Show
This, of course, is one of the world's largest conferences and exhibitions, with more than 150,000 attendees coming from around the world. Car companies, electronics firms, fitness firms and much more have massive booths set up in multiple exhibit halls, with some companies like Gibson (guitars) having its own performance stage set up in a huge outdoor tent.
I was at the conference for about two-and-a-half days, and my focus was on two areas: wearable fitness and smart home technology. But while I felt I did learn a bit about technology and where it is going, the conference is much more about media exposure and promotion to retail chain buyers than it is about education. Not only that, but there was very little, even in the health sections, that was tailored to seniors.
My biggest takeaway from the show was an important one, though, and that is that the adoption of smart home technology has taken a huge leap forward over the past year with the success of the Amazon Echo ("Alexa") system. Manufacturers of smart home products have been racing to make their products compatible with Alexa, any many now are.
International Builders Show
Okay, I'll be painfully honest. One of the reasons I wanted to go to both of these conferences is that I feel like we have been designing and building the same senior living homes for more than 15 years, with the primary difference being that we now offer granite counters instead of Corian, stainless appliances instead of black, and glass top ranges instead of coils. During those 15 years, though, there have been significant advances in home design, especially in technology, and senior living has been slow to adapt. This was all brought home by the Builders Show.
As I walked through the exhibits, row by row, I quickly lost track that I had come looking for ideas for senior living. Instead, I began imagining what I would like done with my home, and what features and systems I would like to have. And then I realized it: Everything I was putting on my wish list were things that made living in my house easier and more convenient. While I'm just a few years shy of 60 right now, there was nothing on my list that I would not want or use when I'm 70, 80 or even 90. That's something we tend to forget when we talk about designing homes for seniors: We tend to put them in a box and think too simply, when the reality is they want the same conveniences and (yes) luxuries that we do.
My conclusion from both conferences was that, from a smart home perspective, most of our senior living communities are, indeed, standing still, while the rest of the housing industry is surging forward at an accelerating pace. Alexa has made controlling smart home products as simple as giving a verbal command, such as, "Alexa, please lower the blinds," and that opens tremendous opportunities for us.
How do we do it? The primary advice given by contractors at the IBS conference was consistent: The key to successfully integrating smart home technology into your community is to engage a good "home automation integration company," or "smart home systems integration company," (you can Google either one) in your market area. Contract for the expertise; it will speed up the process and be well worth it.
Why IBS in 2018?
Attending CES was fun, but there is just not that much there to learn for senior living. (Plus, it's hard to get accepted to attend. You actually have to apply.)
IBS is a totally different story. Why should a CEO (along with at least the facilities director and marketing director, in my opinion) attend the Builders Show? Several reasons.
1.) You will learn about and understand the full potential of incorporating smart home technology into our communities.
2.) You will get tremendous exposure to overall trends in home design, style palettes and materials, especially for kitchens and bathrooms.
3.) You will be able to attend educational sessions on trends in aging-in-place products and services.
4.) You will learn about trends in design and sales of 55+ homes (which I believe can become increasing competition for senior living in the years to come, especially with the integration of technology).
In short, you will see and learn things you will never see at LeadingAge state or national conferences. After going the first time, I would recommend that CEOs and marketers attend the show at least once every three years or so, to stay on top of trends, while facilities directors may go more often.
Want to learn more about the Builders Show? Visit www.buildersshow.com. Next year's show will be back in Orlando (where it is every year), from January 9 to 11. I've got it on my calendar, and I hope to see you there!
For more information about the future of senior living, please contact Tim Bracken at 410-207-0013 or Rick Hunsicker at 214-906-3801, or visit us on our website.
---
To read my initial thoughts and expectations about the 2017 Consumer Electronics Show and International Builders Show, click here.
To read my thoughts on smart home technology seen at the Consumer Electronics Show, click here.
To read my thoughts on wearable technology seen at the Consumer Electronics Show, click here.
To read my final thoughts on the Consumer Electronics Show, click here.
To read my expectations for the 2017 International Builders Show, click here.
To read my first thoughts on the International Builders Show, click here.
To learn what my favorite product at the International Builders Show was, click here.
To learn more about the International Builders Show and how to prepare for next year's conference, click here.