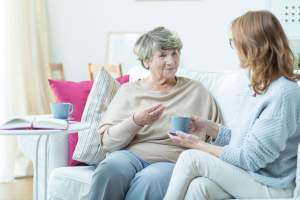 By Chris Carruthers, Vice President, Health Services Marketing
Let's start by affirming a trend in assisted living that we are all seeing. People are staying in their homes longer, sometimes with services, instead of moving to assisted living.
Traditionally, admissions counselors focused on how to help seniors acknowledge the benefits and overcome barriers to a move. Instead, I challenge you to think of the home visit as an opportunity to strengthen your relationship with the senior and to have a casual conversation about their lifestyle.
What you do with that information will be key in securing that move in. For example, just knowing the size of their home and their lifestyle can help you suggest ideas on downsizing and transitioning. Now you are seen as their new support system, instead of someone trying to "sell" them something.
The importance of home visits
The home visit should be used as a tool for prospects with whom you've already established a relationship. Prospects are less likely to agree to a home visit until they know and trust the admissions counselor, and these prospects may not feel comfortable about meeting at the community one-on-one. They also may not feel safe leaving their homes to travel because of potential health concerns.
The most important reason to conduct a home visit is to evaluate current living conditions and lifestyle. Many discovery questions can be answered through general conversation, including opportunities for social interaction, eating habits, and the living situation. This visit is a humble interaction and should convey your interest in learning more about the prospect's lifestyle without giving him/her the sense that you are trying to pressure them into making a decision.
Getting your foot in the door…literally
We have already established that you must have a good relationship in order to invite yourself into your prospect's home, but your prospect may be hesitant about allowing you into his/her home for many reasons. There are many ways to get your foot into their door, and here are a few examples.
Based on your previous discovery questions, you know they don't leave their home often. Offer to drop off information that was shared at a recent event, or information you know will help them based on a previous conversation.
Any holiday is a great time to mention you are making rounds to friends and peers and would like to stop by with a special treat. This can be cookies, soup, pie or whatever you choose.
When prospects show interest, and consistently take your phone calls, they will be more likely to simply agree to a visit to talk about next steps. Sometimes they just want a conversation in their home, instead of your office. Even though this is obvious to many sales counselors, they think they are too busy to make time for a home visit.
Tips for effective home visits
1.) Start with a message of respect – arrive on time. Know that your prospect may not have many visitors, and he/she is anxious for someone to have a conversation with
2.) Introduce yourself and set expectations for the visit – this is just a conversation
3.) Ask them where they would like you to sit – they will likely have a certain piece of furniture they always sit in, so you never want to accidentally take their seat
4.) They may have cookies and coffee/tea prepared, and always say yes
5.) Make comments about their home to put them at ease – the first 20 minutes should be spent asking questions about their lifestyle and listening to their story. It will be important to know who their neighbors are and how much help they may be getting from them
6.) Allow 1.5 to 2 hours – people sometimes are offended if they invite you into their home and you appear too busy to stay for at least an hour
7.) Adult children are welcome, especially if they are really involved in making regular visits
8.) While in their home, analyze their living situation, including safety concerns, cleanliness and eating habits
9.) Evaluate the condition of the exterior of the home from a maintenance viewpoint
10.) Determine how often they experience social interaction and how often family or friends visit
11.) Do not ask questions about what they need help with, but instead ask questions about how they spend their day
The principle of reciprocity
Webster defines reciprocity as a relation of mutual dependence or action or influence. This means that if a prospect allows you to enter their home, there is a mutual action that follows, which is either a visit to your community or a commitment to a next step. Once someone allows you to enter their home, in almost every circumstance you will have an opportunity to move the sale forward.  We all make the time for things we feel are more important, and I challenge you to make the time to prioritize home visits as part of your weekly routine.
For more information, please contact Tim Bracken at 410-207-0013 or Rick Hunsicker at 214-906-3801.