One Event, Three Tours and Three Deposits: How the Right Event Can Yield Impactful Results
The Overlook | Charlton, MA

The Situation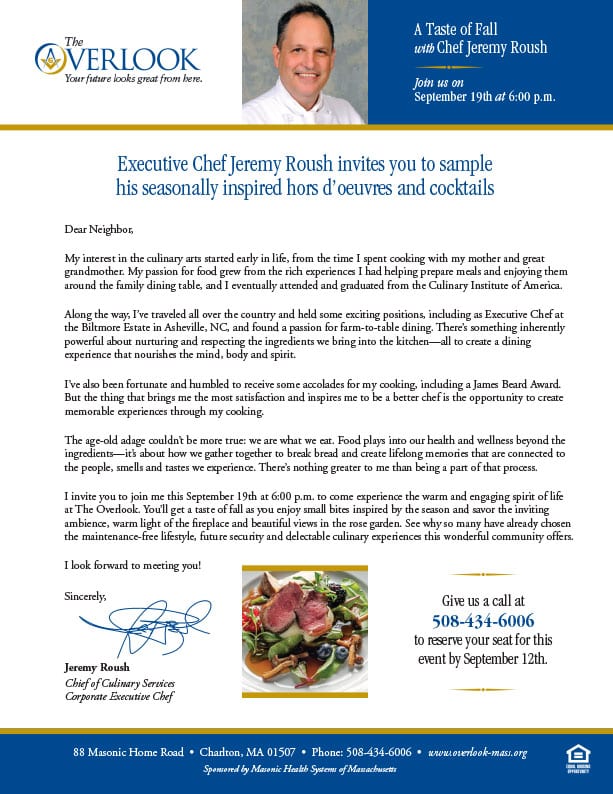 The Overlook, a retirement community in Charlton, Massachusetts, engaged with Love & Company as its agency of record to provide a range of services, including sales training, marketing advisory, digital services and creative.
One of the events Love & Company and The Overlook worked on was intended to engage new leads and re-engage existing, hopefully identifying individuals who may be likely to move in more quickly than the typical multi-year sales cycle.
To do this, The Overlook hosted a Meet the Chef event to highlight residents' culinary experience with their award-winning executive chef who is dedicated to sourcing locally, and offering healthy homestyle and upscale meals. Love & Company created a full color, one-page letter from the chef with a menu insert and envelope. The letter provided background information about the chef and his journey to joining The Overlook's culinary team. Plus, it invited recipients to attend the event for a "taste of fall flavor" while learning more about The Overlook community.
The personalized letter resulted in 110 unique leads. Thirty-four households attended the Meet the Chef event, with three sales (they had a 9% sales conversion rate) making a deposit during or directly after the event.  Additionally, three households called to schedule a tour after receiving the invitation.
The Overlook achieved a 9% sales conversion rate at their event, in addition to 3 community tours.
Every community has an amenity that really stands out. One key to creating successful events is finding the truly unique and impressive element of your community and highlighting it in a meaningful way for prospects. For The Overlook, a chance to meet an award-winning chef and eat the community's delicious food was a great way to engage new leads – thus creating a solid foundation for the sales counselors.
The Overlook's Goal:
Engage new leads, re-engage existing leads to identify whom may be more likely to move in
The Overlook's Results:
9% sales conversion rate at event, plus 3 tours of the community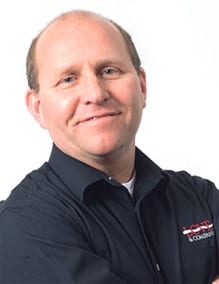 If your community needs the tools to effectively engage or re-engage leads, contact Tim Bracken to see how Love & Company can help you create an effective, confluent marketing program.

Tim Bracken
410-207-0013
tbracken@loveandcompany.com