Before You Start Your Master Planning Process…
…YOU NEED TO READ THIS WHITE PAPER.
The needs and desires of our aging population are evolving faster than ever, requiring communities to quickly evolve as well. We have found an interactive, team-based approach to master planning to be—by far—the fastest, most efficient and most financially sound approach for a senior living blue sky project, expansion or repositioning. The ideal approach to team-based planning includes a five-step process:
Visioning
Preliminary financial modeling
Architectural design
Refine, refine, refine
Consumer validation
Love & Company's digital white paper on team-based master planning covers all these topics and more. You'll gain valuable insights to help ensure your growth plan will be successful and reduce the risk of false starts or slow sales.
Complete the short form on this page for instant access to team-based master planning: the most efficient way to bring an expansion or start-up community to reality.
Fill out this form to access our free digital white paper.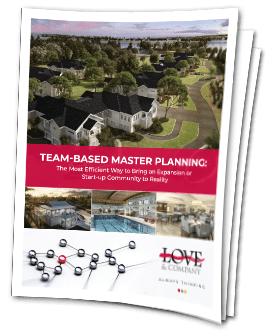 Love & Company
7490 New Technology Way
Frederick, MD 21703
©2020 Love & Company. All Rights Reserved.