Your Best Prospects Are Online…
FREE White Paper Explains How to Utilize Predictive Modeling & Lead Scoring
Being able to predict which leads are most likely to be converted can mean the difference between success or failure for your retirement community. This new white paper explores different aspects within the practice of predictive modeling, including generating better lead scores, best practices when using a Customer Relationship Management System (CRM), creating a more efficient sales team and better informed targeted marketing efforts.
To receive a digital copy of the white paper, simply fill out the short form on this page and it will be instantly delivered to your inbox.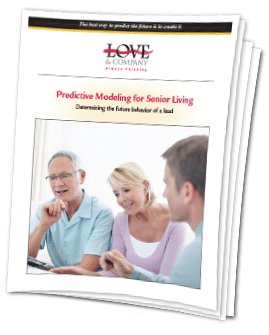 Love & Company
7490 New Technology Way
Frederick, MD 21703
©2020 Love & Company. All Rights Reserved.