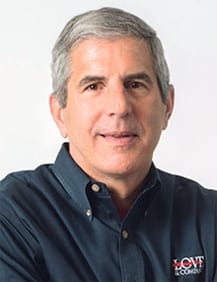 Rob Love
President & CEO
Rob joined Love & Company in July 1989, and led the firm's transformation to a full-service organization that specializes in senior living. From its beginning, Love & Company has been an active participant in helping the senior living field grow and evolve.
As a new generation is now starting to consider senior living, Rob sees a fresh set of challenges. "Knowledge is everything: we must continue to talk to and learn from senior prospects so we understand both the emotional and logical factors that motivate their decisions. We must then convey that knowledge to our clients to help them proactively respond. We should never assume that we know all the answers."
Rob is a frequent presenter who speaks at senior living conferences and board retreats, where he shares his insights on a range of opportunities and challenges. Rob was also the driving force behind the firm's own research arm, created to better understand how and why senior living is evolving, and how to use the knowledge gained to inform the work. With clients, he is focused on strategic and development planning, guiding them toward a clear vision for the future, and identifying a clear path toward achieving that vision.
When not working, Rob loves to garden, hike and listen to a variety of audio books. He is also a Baltimore Orioles fan by birth. "It's in my genes—I couldn't root for another team if I tried!"